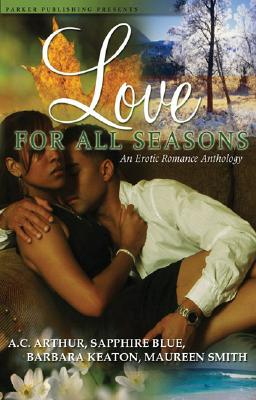 Love for All Seasons (Paperback)
Noire Passion, 9781600430138, 309pp.
Publication Date: August 17, 2007
* Individual store prices may vary.
Description
Love For All Seasons will keep you aroused with four sensually charges romances guaranteed to keep temperatures boiling no matter what time of year. Barbara Keaton's Spring Fling is a story of professors gone wild in Jamaica, that proves that spring flings aren't just for the young. Sapphire Blue's Summer Lovin' is set in Miami, where the heats gets the creative juices flowing for a sexy producer and the beautiful screenwriter he abducts. The sulty summer has them both tied up in knots. Maureen Smith's Falling Into You shows when good girl grad student goes undercover to explore the world of strippers, she finds herself exploring her own seductive side with an undercover cop who teaches her the real meaning of Vice. A.C. Arthur's The Snowflake Seduction is the story of a jilted bride, who meets a jilted groom at a sex camp ski resort and discovers that romance on the rebound is the best kind of all.
About the Author
Barbara Keaton, a notice of Chicago, thinks it is the best city in the world. She enjoys writing and reading. Her articles have appeared in Today's Black Woman Magazine, Chicago Reader, Chicago Crusader, and True Confessions. She has written seven books and credits her late grandfather, Thomas Hill, and the Oblate Sisters of Providence for instilling a love and passion for writing in her. Sapphire Blue creates stories to entice and arouse. An event planner and romance author, Sapphire lives in Maryland. Reading and writing are her passion. Maureen Smith, the author of eight novels, lives in San Antonio, Texas. She has been nominated for nine Emma awards and two Romantic Times Reviewer Choice Awards. Her articles have appeared in various magazines, newsletters and online publications. A.C. Arthur is an up coming writer with an impressive resume. She has won a number of awards including the prestigious Emma. She lives in Baltimore, Maryland.
or
Not Currently Available for Direct Purchase