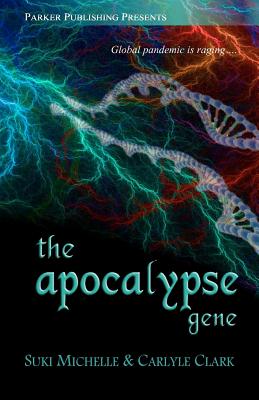 The Apocalypse Gene (Paperback)
Parker Publishing Inc., 9781600431029, 238pp.
Publication Date: July 30, 2011
* Individual store prices may vary.
About the Author
Suki Michelle is a life-long Chicagoan, happily divorced and still good friends with her Ex. She lives and writes with her soul-mate, Carlyle Clark. She has one beautiful daughter, Bree, who is the first reader and critic of The Apocalypse Gene, and without her input, it wouldn't be nearly as cool! Suki's other children are of the four-legged type, Dahlia, the German shepherd; Kilala the lazy calico chub-cat; and Koney, the tortoise-shell demon cat from the Seventh Ring. Carlyle is a burly dude from San Diego. He can look menacing at a glance, but as soon as he opens his mouth - pure GEEK! Brilliant and always kind, Suki is eternally grateful for the day they met at an on-line writer's workshop. They've been together for three years. On the outside...Suki and Carlyle are totally disparate. On the inside...they are the REAL Neo-Twins. You'll have to read The Apocalypse Gene to find out who the Neo-Twins are, but here's a hint: They are twisted devils with mirror-melded auras. As writers, Suki and Carlyle have complementary skill sets. He's plot master and edgy dialoguer. Lyle is a huge fan of Japanese anime, and he draws upon this to choreograph fight scenes like no other. Suki can paint a character's emo landscape and write fancy (hopefully not boring) descriptions. They both have vivid imaginations! Suki and Carlyle wish you all the best and hope you enjoy their work.
or
Not Currently Available for Direct Purchase