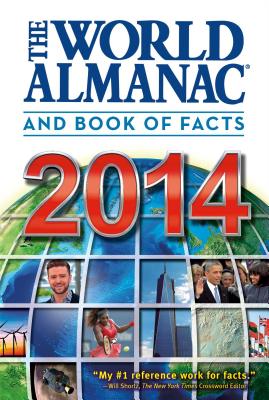 The World Almanac and Book of Facts 2014 (Hardcover)
World Almanac Books, 9781600571817, 1008pp.
Publication Date: December 17, 2013
Other Editions of This Title:
Paperback (11/26/2019)
Hardcover (12/17/2019)
Hardcover (12/19/2017)
Hardcover (11/1/2011)
Paperback (11/1/2010)
Hardcover (12/1/2010)
Paperback (11/26/2013)
Hardcover (12/20/2016)
Paperback (12/4/2018)
Prebound (12/2/2014)
Hardcover (12/15/2015)
Hardcover (12/16/2014)
* Individual store prices may vary.
Description
Larger hardcover format offers more user-friendly access to thousands of facts at increased font size to enhance readability. The World Almanac(R) and Book of Facts is America's top-selling reference book of all time, with more than 82 million copies sold. Published annually since 1868, this compendium of information is the authoritative source for all your entertainment, reference, and learning needs. The 2014 edition of The World Almanac reviews the events of 2013 and will be your go-to source for any questions on any topic in the upcoming year. Praised as a "treasure trove of political, economic, scientific and educational statistics and information" by The Wall Street Journal, The World Almanac(R) contains thousands of facts that are unavailable publicly elsewhere. The World Almanac(R) and Book of Facts will answer all of your trivia needs--from history and sports to geography, pop culture, and much more. Features of The World Almanac(R) 2014 include: - The Year in Review: The World Almanac(R) takes a look back at 2013 while providing all the information you'll need in 2014. - 2013--Year in Sports: Hundreds of pages of trivia and statistics that are essential for any sports fan, featuring complete coverage of the 2013 World Series, the brand-new National Women's Soccer League, and much more. - 2013--Year in Pictures: Striking full-color images from around the world in 2013, covering news, pop culture, science, and sports. - 2013--Top 10 News Topics: The editors of The World Almanac(R) list the top stories that held their attention in 2013. - World Almanac Editors' Picks: Time Capsule: The World Almanac(R) lists the items that most came to symbolize the year 2013, from news and sports to pop culture. - Offbeat News Stories: The World Almanac(R) editors found some of the strangest news stories of the year. - The World at a Glance: This annual feature of The World Almanac(R) provides a quick look at the surprising stats and curious facts that define the changing world today. - Marriage in the U.S.: After a year in which the U.S. Supreme Court declared DOMA unconstitutional and the federal government began to extend some marriage benefits to same-sex couples, a feature on marriage in the United States reveals surprising details about the state of our unions. - Voter Guide: Prior to the 2014 midterm elections, The World Almanac(R) provides a user-friendly, state-by-state guide to key election dates and information, including voter-ID laws adopted by many states. - Need-to-Know Information: Browse all-new statistics on topics in the news: firearm violence and crime rates, the health and employment of U.S. veterans, and the latest in digital technologies--and who is using them. - Health News and Statistics: Details about U.S. health care policy, including ongoing implementation of health care reform. Factual information on common diseases and disorders (including a new section on ADHD), nutrition and diet, and Medicare and insurance. - World Almanac(R) Editors' Picks: Memorable Winter Olympic Moments: From Tonya and Nancy to the Miracle on Ice, the editors of The World Almanac(R) choose their favorite moments of past Winter Olympics to prepare readers for the 2014 Games. - and much more.
About the Author
Sarah Janssen is the senior editor of The World Almanac and Book of Facts, The World Almanac for Kids, and other diverse titles. She lives in Brooklyn, NY.
or
Not Currently Available for Direct Purchase