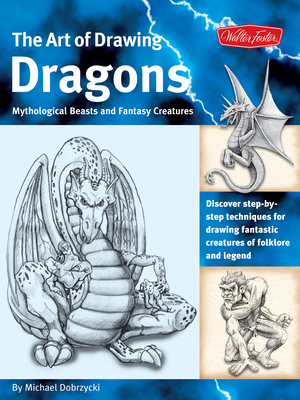 The Art of Drawing Dragons
Discover step-by-step techniques for drawing fantastic creatures of folklore and legend (The Collectors Series)
Paperback

* Individual store prices may vary.
Description
Easy-to-follow instructions for drawing a variety of creatures, from an Eastern dragon to a hairy troll
The ever-increasing popularity of mythological and fantasy creatures in film, graphic novels, and television creates high demand for instruction books on drawing these fantastic beasts. In this newest addition to our Collector's series, aspiring artists will find 144 pages of clear, step-by-step instructions for drawing everything from fire-breathing dragons to seven-headed monsters and magical fairies. Information on the origin and history of mythological creatures gives this book an extra-special appeal. The author's helpful tips on shading and drawing techniques show readers everything they need to know to create their own impressive beasts.
Although there are fantasy-themed drawing books on the market, this book is unique because it features a wide range of fantasy subjects rather than focusing on only one type of creature (such as dragons or fairies). It also sets itself apart from similar books with its helpful information on combining graphite pencil with other media, such as charcoal and black watercolor paint or ink. In addition, this extraordinary book features dragons and other mythological creatures from around the world, including those originating in Egyptian, Irish, Norse, and Greek mythology-whereas most other fantasy books include generic, non-regional subjects.
Praise For The Art of Drawing Dragons: Discover step-by-step techniques for drawing fantastic creatures of folklore and legend (The Collectors Series)…
Gr 8 Up-This comprehensive collection, which includes black-and-white photographs of supplies and illustrations of the creatures to be drawn, is divided into five sections. "Getting Started" discusses supplies such as sketch pads, pencils, and watercolor paint. All of the techniques are covered: shading (light and shadow), creating textures (scales, feathers, hair), combining references (putting wings, heads, and claws on real people or animals drawn from photographs), constructing creatures (basic shapes, forms, depth), placing the features, and shifting proportions (from normal to exaggerated). A few boxed areas provide additional tips. Next come the step-by-step drawing instructions. "Types of Dragons" illustrates l6 creatures ranging from the familiar to the obscure, each one progressively more detailed. "Legendary Dragons" provides guidance for creating l7 creatures from diverse cultures. "Mythological Beasts" focuses on creatures from Greece, and includes a sphynx, the Minotaur, and Pegasus. The 18 "Fantasy Creatures" (leprechaun, troll, ogre) are equally intriguing. Like Christopher Hart's Drawing Dragons and Those Who Hunt Them (Watson-Guptill, 2007), this detailed and sophisticated title for serious artists will be a popular addition.-Augusta R. Malvagno, Queens Borough Public Library, NY - School Library Journal
Walter Foster Publishing, 9781600580123, 144pp.
Publication Date: May 1, 2007
About the Author
Michael Dobrzycki is an accomplished painter, carpenter, puppet maker, and sketch artist whose work has been featured in more than a dozen children's books and small press publications over the last few years. In 2001, Michael was inducted into the Disneyland Entertainment Hall of Fame. He received a master's degree in illustration from California State University, Fullerton, and holds bachelor's degrees in both art and history from Whittier College. He is currently a visiting professor at Whittier College. Michael lives in Whittier, California.