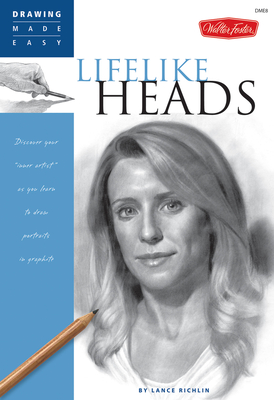 Lifelike Heads (Paperback)
Discover your "inner artist" as you learn to draw portraits in graphite (Drawing Made Easy)
Walter Foster Publishing, 9781600580666, 64pp.
Publication Date: September 1, 2008
Other Editions of This Title:
Library Binding (8/1/2010)
* Individual store prices may vary.
Description
Learn to draw amazingly realistic portraits in seven easy stages
This book is the perfect guide for creating lifelike representations of the human head in graphite. Experienced artist Lance Richlin begins by explaining drawing tools and materials, shading techniques, and the important anatomical structures of the head. Following these basics, he shows how to light the subject, block in and render each feature of the face, and address a variety of expressions-from subtle smiles to toothy grins. Then he guides the reader through four impressive projects, showing how to develop a lifelike head drawing in seven simple stages: the lay-in, plumb lines, volume, outline, tonal pattern, value, and finishing. Readers also will find an in-depth troubleshooting section to help them identify and solve any problems that lessen the realism and accuracy of their drawings. In an age full of technological shortcuts, this book emphasizes drawing from life and seeks to preserve the methods of the old masters.
About the Author
A master of drawing, painting, and sculpture, Lance Richlin (Los Angeles, CA) has taught every aspect of classical art-from anatomy and perspective to traditional oil painting techniques. He has lectured at several art colleges in southern California, including Art Center College of Design, Otis College of Art and Design, and California Institute of the Arts, and he holds workshops in his atelier. He has shown his work in galleries across California and has exhibited in museums around the USA.