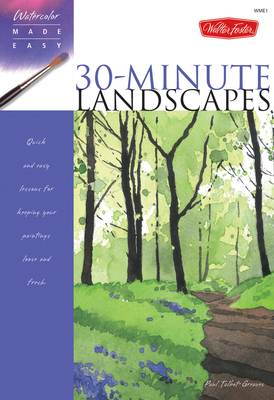 Watercolor Made Easy (Paperback)
30-Minute Landscapes
Walter Foster Publishing, 9781600580796, 64pp.
Publication Date: March 1, 2008
* Individual store prices may vary.
Description
Discover the benefits of completing a watercolor painting in 30 minutes or less
Spending hours or even days on a watercolor painting can lead to dull, muddy results. But a surefire way to keep your paintings loose and fresh is to work quickly! In this informative, 64-page book, accomplished artist Paul Talbot-Greaves proves that painting in watercolor doesn't have to be an all-day event. In fact, an impressive landscape scene can be created in just 30 minutes or less, which Paul demonstrates in 27 step-by-step lessons. To discourage readers from overworking their paintings, the author breaks down each lesson into short blocks of time, indicating how many minutes should be spent on each stage. In addition, he provides practical information on tone, color, pattern, light, and more, so readers can improve their skills and develop their "artist's eye."
About the Author
Paul Talbot-Greaves is a professional watercolorist and art teacher who holds numerous workshops and demonstrations throughout the British Isles. He has been a member of several art organizations, including the International Guild of Artists, the British Watercolour Society, the Halifax Art Society, and the Society for All Artists (SAA). Paul has written for a number of UK publications, such as Paint and Artists & Illustrators Magazine, for which he is a regular contributor. He also has produced four art instruction videos and DVDs on watercolor painting.