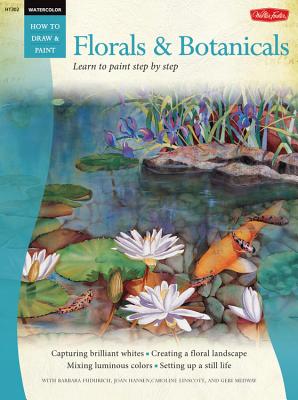 Watercolor: Florals & Botanicals: Learn to Paint Step by Step (Paperback)
Florals & Botanicals: Learn to Paint Step by Step
Walter Foster Publishing, 9781600581205, 32pp.
Publication Date: June 15, 2008
* Individual store prices may vary.
or
Not Currently Available for Direct Purchase
Description
Learn to paint sunflowers, water lilies, roses, and more In this gorgeous 32-page project book, four accomplished watercolorists show aspiring artists how to paint a range of florals and botanicals--from delicate orchids to bold birds of paradise. Beginning with the basics, the detailed lessons demonstrate how to portray three-dimensional forms and create compelling designs. Each project features fundamental techniques, such as using washes, glazing, and painting wet into wet. The authors also share helpful tips on revealing luminous colors in white, creating dynamic lights and shadows, and zooming in on a subject for dramatic effect. With vibrant, full-color illustrations and simple instructions, this essential how-to-paint book will inspire artists to begin capturing their favorite floral scenes in watercolor.
About the Author
BARBARA FUDURICH, JOAN HANSEN, CAROLINE LINSCOTT, GERI MEDWAYWilliam F. Powell is an internationally recognized artist and one of America's foremost colorists. A native of Huntington, West Virginia, Bill studied at the Art Student's Career School in New York; Harrow Technical College in Harrow, England; and the Louvre Free School of Art in Paris, France. His experience as an art instructor includes oil, watercolor, acrylic, colored pencil, and pastel-with subjects ranging from landscapes to portraits and wildlife. Additionally, Bill conducts painting workshops and produces instructional videos that employ unique methods of in-depth presentation and demonstration. Bill holds awards for his technical art, which has been used for major projects, such as space programs and environmental studies. He lives in Temecula, CA.William F. Powell is an internationally recognized artist and one of America's foremost colorists. A native of Huntington, West Virginia, Bill studied at the Art Student's Career School in New York; Harrow Technical College in Harrow, England; and the Louvre Free School of Art in Paris, France. His experience as an art instructor includes oil, watercolor, acrylic, colored pencil, and pastel-with subjects ranging from landscapes to portraits and wildlife. Additionally, Bill conducts painting workshops and produces instructional videos that employ unique methods of in-depth presentation and demonstration. Bill holds awards for his technical art, which has been used for major projects, such as space programs and environmental studies. He lives in Temecula, CA. BARBARA FUDURICH, JOAN HANSEN, CAROLINE LINSCOTT, GERI MEDWAY
Advertisement