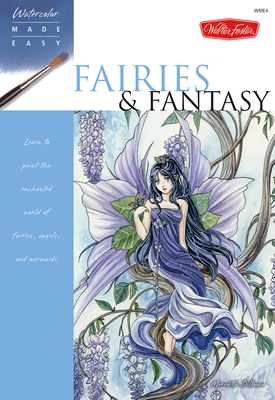 Fairies & Fantasy (Paperback)
Learn to paint the enchanted world of fairies, angels, and mermaids (Watercolor Made Easy)
Walter Foster Publishing, 9781600581410, 64pp.
Publication Date: April 15, 2009
* Individual store prices may vary.
Description
Fairies, mermaids, and angels have captivated imaginations throughout the centuries. Embodying all that is feminine, sparkly, and magical, these fantastic creatures have found their ways into countless stories, films, and works of art that appeal to people of all ages. And now anyone can discover how to bring them to life in watercolor with this delightful 64-page guide. Inside, artist-author Meredith Dillman shares the methods of her unique artistic style, which is influenced by Pre-Raphaelite paintings, turn-of-the-twentieth-century book illustrations, and modern-day Japanese manga—a combination that results in beautiful, contemporary artwork. Meredith provides instruction specific to creating the mythical beauties and their whimsical surroundings, showing readers how to draw and paint faces, bodies, hair, clothing, and more. The author also guides readers through several inspiring projects, demonstrating how to re-create the magic step by step.
About the Author
Meredith Dillman is an artist and illustrator living in Minnesota. Since childhood, she has enjoyed painting fairies, woodland creatures, and other fantasy and medieval themes in watercolor. Meredith graduated from Minnesota State University with a BFA in illustration and has been published in role-playing games, the books Watercolor Fairies, Fairy Motifs, How to Draw and Paint Fairies, and metaphysical magazines and journals.
Praise For Fairies & Fantasy: Learn to paint the enchanted world of fairies, angels, and mermaids (Watercolor Made Easy)…
Dillman, Meredith. Fairies & Fantasy: Learn To Paint the Enchanted World of Fairies, Angels, and Mermaids. Walter Foster. (Drawing Made Easy). 2009. c.64p. illus. ISBN 978-1-60058-141-0. pap. $9.95. ART INSTRUCTION

Dillman fuses her knowledge of pre-Raphaelite art and Japanese anime with her passion for the world of fairies, mermaids, and angels. She briefly covers the tools and materials of watercolor and then teaches a variety of effects, from dreamy to abstract. For select readers. -- Library Journal, July 2009