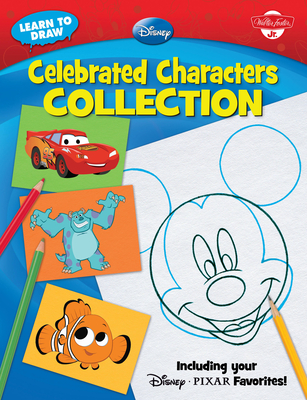 Learn to Draw Disney: Celebrated Characters Collection: Including Your Disney/Pixar Favorites! (Paperback)
Celebrated Characters Collection: Including Your Disney/Pixar Favorites!
Walter Foster Publishing, 9781600581441, 143pp.
Publication Date: February 1, 2009
Description
Learn to draw a variety of Disney characters--from Mickey and Buzz Lightyear to Simba and Sulley
With Learn to Draw Disney-Pixar: The Ultimate Collection, kids will embark on a thrilling artistic journey full of loyal friends, brave bugs, gentle monsters, and more This 144-page five-in-one collection features five of Walter Foster's best-selling Learn to Draw titles, including Mickey Mouse and His Friends, Finding Nemo, The Lion King, Cars, and Your Favorite Disney-Pixar Characters. Young artists will develop their drawing skills while accompanying such characters as the fearless little fish Nemo, the hotshot racecar Lightning McQueen, and the vigilant space ranger Buzz Lightyear on their exciting, heroic adventures The simple, easy-to-follow method shows each new drawing step in blue so artists of all levels can learn to draw with confidence. Additionally, full-color illustrations and detailed story synopses engage young artists for hours of creative fun.
About the Author
Disney Storybook Artists are a team of illustrators of fine children's books based on the creative animation of Walt Disney Animation Studios. With talented artistry and masterful storytelling, Disney Storybook Artists help bring the magic of Disney animation into the hearts and homes of families everywhere.
Advertisement