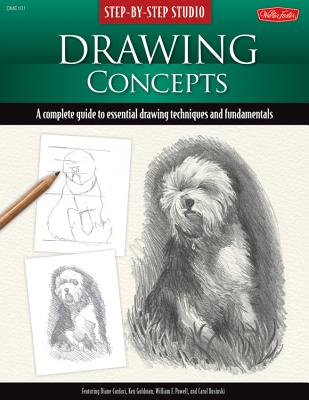 Drawing Concepts: A Complete Guide to Essential Drawing Techniques and Fundamentals (Spiral)
A Complete Guide to Essential Drawing Techniques and Fundamentals
Walter Foster Publishing, 9781600581496, 144pp.
Publication Date: July 1, 2009
* Individual store prices may vary.
or
Not Currently Available for Direct Purchase
Description
There's no need to spend hundreds of dollars on drawing workshops and classes. For a fraction of the cost, this book offers all the fundamental information beginners need to kick off their creative pursuits in pencil Inside, four accomplished artists offer insight, tips, and helpful demonstrations that illustrate important art concepts and techniques. Step-by-Step Studio: Drawing Basics features in-depth instruction on composition, value, creating textures, using and manipulating photo references, and more. Readers will also find an impressive and varied selection of step-by-step projects to re-create, from animal portraits and traditional still lifes to charming landscapes.
About the Author
Diane Cardaci was classically trained at the Art Students League of New York City, Parsons School of Design, and the School of Visual Arts. Her passion for both realism and nature led her to start her professional art career working as a Natural Science Illustrator in New York City, where she specialized in medical and natural science illustrations. Her work has been published by the American Museum of Natural History in New York City, as well as by major textbook companies such as Holt, Rinehart, and Winston. After studying portraiture with such nationally acclaimed artists such as Nelson Shanks and John Sanden, commissioned portrait work soon became an important part of her artwork. She is a signature member of the American Society of Portrait Artists and has contributed writing for the organizations publications. Diane is also a member of the Colored Pencil Society of America, the Graphic Artists Guild, and the Illustrator's Partnership of America.Award-winning artist Ken Goldman is an internationally known artist, author, teacher, and art juror. His work has been exhibited in group and solo exhibitions in Holland; Paris; Mexico; New York; Boston; Washington, D.C.; the Oceanside Museum of Art: 100 Artists, 100 Years 1915-2015; the International Fabriano en Acquarello 2015 (Italy); China's Shenzhen International Biennial 2013-2014; and the Shanghai International Biennial 2012-2013. He currently serves as president of the National Watercolor Society. Visit www.goldmanfineart.com.Recognized as one of America's foremost colorists, William F. Powell has taught art classes and workshops for 35 years in various art media. Today he is an extremely popular author, and he attracts more admirers each year with the numerous titles he has produced for Walter Foster Publishing, including Color Mixing Recipes, which he originally conceptualized, designed, and illustrated himself.From an early age, Carol Rosinski could pick up a pencil and transform paper and pencil into a living scene with depth and texture. Since 1985, Carol has worked exclusively with graphite pencil, and she has more than 20 years of experience as both artist and teacher. Carol has worked as an illustrator and shown her artwork in galleries, and her drawings have appeared in a number of publications.
Advertisement