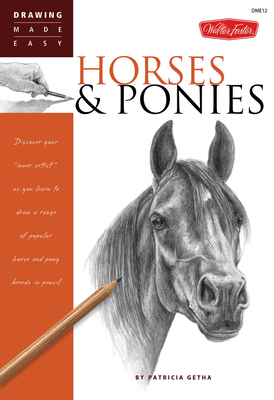 Horses & Ponies (Paperback)
Discover your "inner artist" as you learn to draw a range of popular breeds in pencil (Drawing Made Easy)
Walter Foster Publishing, 9781600581588, 64pp.
Publication Date: January 1, 2010
* Individual store prices may vary.
Description
This newest title in the Drawing Made Easy series makes it possible for aspiring artists to re-create an impressive array of horse and pony drawings. From a grazing Appaloosa to a Standardbred Trotter in action, accomplished artist Patricia Getha includes a range of exciting breeds and positions. In addition to teaching basic pencil techniques, she also shows how to enhance drawings with charcoal and watercolor washes. And each project features easy-to-follow steps, so artists of any skill level can follow along with confidence. Full of inspiring artwork and effective instruction, this book is an essential for all horse-loving artists!
About the Author
As a young girl, Patricia Getha spent many summers looking after and showing horses. Drawing played a large role in Pat's life from an early age, but it was a love of horses that enabled her to master the subject. With formal training in commercial and graphic arts, Pat is proficient in a variety of media, including watercolor, graphite, oil, and colored pencil. She is active in juried competitions and has won several awards for her exquisite equine artwork. A mother of four young children, Pat currently resides in Ohio and works primarily as a commission artist.