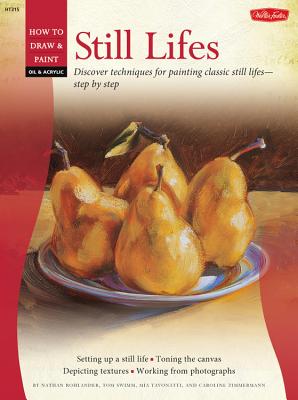 Still Lifes: Discover Techniques for Painting Traditional Scenes-Step by Step (Paperback)
Discover Techniques for Painting Traditional Scenes-Step by Step
Walter Foster Publishing, 9781600582042, 32pp.
Publication Date: November 1, 2010
* Individual store prices may vary.
or
Not Currently Available for Direct Purchase
Description
Still lifes are particularly rewarding because the artist controls all aspects of the process, from subject selection and placement to scene lighting. In Still Lifes, three accomplished show readers how to approach this specialized genre as they demonstrate how to re-create a number of charming still life paintings in acrylic and oil, step by simple step.
About the Author
Nathan Rohlander's bright, vibrant paintings have been featured in the pages of Esquire and Shuz magazines, on the cover of Coast magazine, in Super Bowl commercials, in numerous television shows, and even in MTV videos. Having graduated with honors and a fine arts degree from the Art Center College of Design in Pasadena, California, Nathan is currently working toward a master of fine arts at California State University, Long Beach. Nathan lives and works in Los Angeles, but he has spent considerable time in Europe, South America, and Asia, where he has been able to gain creative inspiration and refine his global perspective. Nathan's work is featured in two Walter Foster Publishing titles: Acrylic: Still Lifes, in the How to Draw and Paint Series; and in The Artist's Source Book: 80 Acrylic Painting References. Nathan lives in Los Angeles, CA.Tom Swimm has felt an instinctive need to paint since his early childhood. Although he is self-taught, he has long been inspired by the work of Van Gogh, Monet, and Hopper, and he considers these masters his teachers. Tom's first one-man exhibition was at the Pacific Edge Gallery in Laguna Beach, California. His work has also been displayed in several other California galleries, at ArtExpo New York, and at the APPAF Exhibition in Paris, France. His paintings have also appeared on the cover of Skyward Marketing's in-flight magazine in 2001, as well as on the cover of Artist's Magazine in 1992. And Tom's work is currently featured in several Walter Foster Publishing titlesArtist Caroline Zimmermann of Laguna Beach, CA, spends much of her time traveling, painting, and exhibiting abroad.Mia Tavonatti is an artist with a variety of interests, including a strong passion for painting and drawing. She moved from Michigan to California to attend art school at California State University, Long Beach, where she earned her BFA and MFA in illustration. She has also studied painting abroad, and she loves to spend her summers painting in Greece. Mia has exhibited her work extensively, both in Europe and throughout the United States. She is the recipient of numerous scholarships and awards, and her work can be seen on more than 45 book covers and in several magazines. In addition to her illustrative work, she has created a number of murals and commissions for restaurants, private residences, and corporations. She teaches illustration and painting and the Art Institute of Southern California in Laguna Beach and currently resides in Costa Mesa, California.
Advertisement