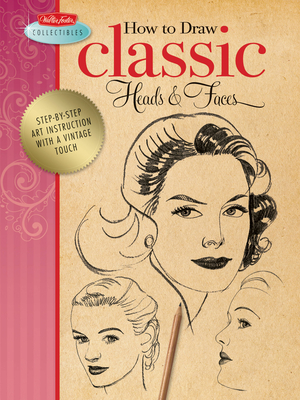 How to Draw Classic Heads & Faces: Step-By-Step Art Instruction from the Vintage Walter Foster Archives (Paperback)
Step-By-Step Art Instruction from the Vintage Walter Foster Archives
Walter Foster Publishing, 9781600582073, 128pp.
Publication Date: March 1, 2011
Description
In How to Draw Classic Heads & Faces, the first book in the new Walter Foster Collectibles series, artists can step back to a simpler time and become acquainted--or reacquainted--with the roots of Walter Foster's art. Gracing each beautifully designed page of this must-have collector's title are original step-by-step instructional drawings and art tips from four books that helped artist Walter Foster grow into the legend he is today: How to Draw the Head, Heads from Life (18), Heads from Life (18A), and 101 Heads. Practical advice and easy-to-follow instructions make this inclusive drawing book as relevant today as when the original titles were first published.
About the Author
More than 85 years ago, Walter Foster--a well-known artist, instructor, and collector--began producing art instruction books from his home in Laguna Beach, CA. He originally wrote, illustrated, printed, bound, packaged, shipped, and distributed them himself. Although Walter passed away in 1981 at the age of 90, his legacy continues in a growing product line. Walter Foster Publishing now provides how-to books and kits to millions of enthusiastic artists worldwide who enjoy the rewards of learning how to draw and paint. People who have never before picked up a paintbrush or drawing pencil have discovered their artistic talents through his easy-to-follow instruction books.
Advertisement