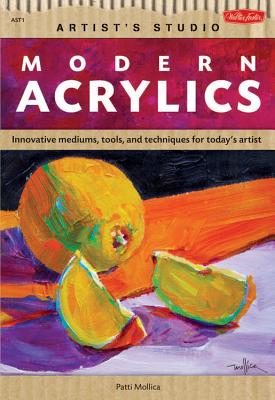 Modern Acrylics: Innovative Mediums, Tools, and Techniques for Today's Artist (Paperback)
Innovative Mediums, Tools, and Techniques for Today's Artist
Walter Foster Publishing, 9781600582202, 64pp.
Publication Date: October 1, 2011
Description
Over the past decade, manufacturers have made drastic improvements to acrylic paint that make it wonderfully appealing to the fine artist. An extensive array of acrylic mediums is available, allowing artists to lengthen the drying time of the paint, completely alter the paint's consistency, add an iridescent sheen, and much more. This book offers all the information a contemporary artist needs to be on the cutting edge of this versatile medium.
About the Author
Patti Mollica lives and works with her fellow-artist and jazz musician husband, Mark Hagan, in New York City and Nyack. An impressionistic and contemporary painter, she believes that a painter's job is to show the viewer the inherent beauty of all subjects and scenes. She has been selected by Golden Paints to conduct lectures and facilitate workshops demonstrating "Creative Techniques Using Golden Paints and Mediums." Patti's work can be seen at www.mollicastudio.com and www.newyorkpainter.blogspot.com.
Advertisement