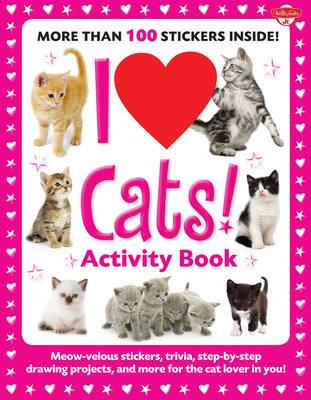 I Love Cats! Activity Book: Meow-Velous Stickers, Trivia, Step-By-Step Drawing Projects, and More for the Cat Lover in You! (Paperback)
Meow-Velous Stickers, Trivia, Step-By-Step Drawing Projects, and More for the Cat Lover in You!
Walter Foster Jr, 9781600582240, 112pp.
Publication Date: April 1, 2011
Description
What better way for kids to show their feline fancy than with this fun-filled I Love Cats Activity Book? Inside, kids can learn how to draw all their furry friends, keep a record of their feline favorites, and demonstrate their kitty pride with an assortment of cool cat-related items, such as bookmarks, stickers, postcards, and door hangers. Packed full of activities and projects, this book is sure to provide hours of creative entertainment for any cat enthusiast
About the Author
Founded in 1922 by artist Walter T. Foster, Walter Foster Publishing, an imprint of The Quarto Group, is the world's leading publisher of instructional art books and kits for adults and children. Walter Foster's diverse selection of drawing, painting, doodling and mixed media art books and kits have created a foundation for millions of beginning, intermediate, and advanced artists looking to hone their talents, learn new techniques, and discover different mediums. From color mixing recipes and art tools to the fundamentals of drawing and painting, Walter Foster's books cover a wide variety of topics and mediums across a broad spectrum of traditional and eclectic subject matter for artists of all skill levels. Walter Foster Publishing continues to expand its offerings every year, producing cutting-edge art-instruction books and kits for a worldwide audience.Diana Fisher is a widely published illustrator whose artwork has won her a scholarship as well as several scholastic and advertising awards. She studied fine art in New York and computer graphics in Arizona. Before concentrating on illustrating, Diana was an art teacher to children with special needs, a graphic designer, and a portrait artist. Diana paints in a variety of different media, including oil, watercolor, and acrylic. Diane lives in Tempe, AZ.
Advertisement