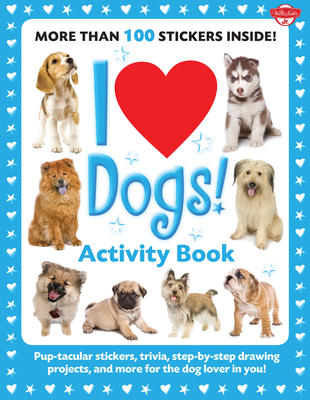 I Love Dogs! Activity Book (Paperback)
Pup-tacular stickers, trivia, step-by-step drawing projects, and more for the dog lover in you! (I Love Activity Books)
Walter Foster Jr, 9781600582257, 112pp.
Publication Date: April 1, 2011
* Individual store prices may vary.
Description
Kids are sure to have a tail-wagging good time completing the pooch-inspired activities in this I Love Dogs! Activity Book. Inside, kids can learn how to draw an array of favorite dog breeds by following easy, step-by-step instructions. They can also increase their canine know-how with fun-fact trivia cards, answer entertaining diary prompts, and even learn how to make doggy treats. Full of stickers, postcards, bookmarks, and other canine accessories, this book is a must-have for all dog-loving kids!
About the Author
Founded in 1922 by artist Walter T. Foster, Walter Foster Publishing, an imprint of The Quarto Group, is the world's leading publisher of instructional art books and kits for adults and children. Walter Foster's diverse selection of drawing, painting, doodling, and mixed media art books and kits have created a foundation for millions of beginning, intermediate, and advanced artists looking to hone their talents, learn new techniques, and discover different mediums. From color mixing recipes and art tools to the fundamentals of drawing and painting, Walter Foster's books cover a wide variety of topics and mediums across a broad spectrum of traditional and eclectic subject matter for artists of all skill levels. Walter Foster Publishing continues to expand its offerings every year, producing cutting-edge art-instruction books and kits for a worldwide audience.
Diana Fisher is a widely published illustrator whose artwork has won her a scholarship as well as several scholastic and advertising awards. She studied fine art in New York and computer graphics in Arizona. Before concentrating on illustrating, Diana was an art teacher to children with special needs, a graphic designer, and a portrait artist. Diana paints in a variety of different media, including oil, watercolor, and acrylic. She has illustrated several books, including How to Draw Dogs & Puppies, How to Draw Cats & Kittens,and How to Draw Zoo Animals. Diana lives in Tempe, Arizona.