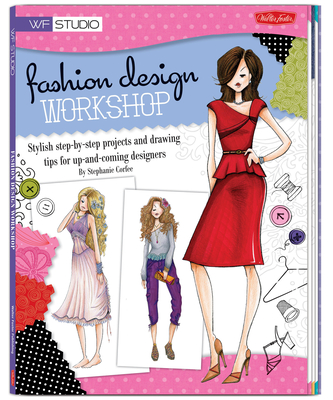 Fashion Design Workshop (Paperback)
Walter Foster Publishing, 9781600582295, 128pp.
Publication Date: July 1, 2011
Description
This delightful guide offers budding artists the perfect introduction to the fundamentals of fashion figure drawing. Showcasing the hip, girly artistic style of Stephanie Corfee, the step-by-step projects cover a range of looks from sophisticated and elegant to cool and casual. The book also contains tips on accessorizing with purses, shoes, hats, and more. And for those who are serious about style, Fashion Design Workshop includes a glossary of fashion terms and a collection of model templates so readers can develop their own line of clothing

About the Author
Painter, illustrator, and graphic designer Stephanie Corfee is the author of three books on art and illustration, all published by Walter Foster: Fashion Design Workshop (7/11), Creative Doodling & Beyond (12/11), and Creative Illustration & Beyond (11/13). She has licensed her artwork for use on children's wall decor, apparel, home goods, and other products to such clients as Lil Blue Boo, Oopsy Daisy, and Target, and sells commissioned artwork, prints of her illustrations, and one-of-a-kind accessories online. Stephanie also offers tutorials, downloads, and online workshops on her website/blog, StephanieCorfee.com.
Advertisement