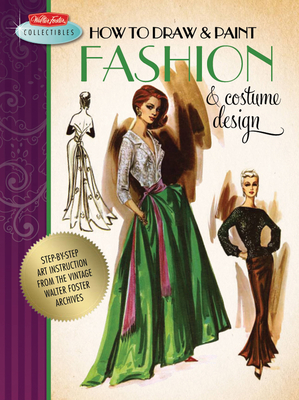 How to Draw & Paint Fashion & Costume Design: Artistic Inspiration and Instruction from the Vintage Walter Foster Archives (Paperback)
Artistic Inspiration and Instruction from the Vintage Walter Foster Archives
Walter Foster Publishing, 9781600582462, 128pp.
Publication Date: June 30, 2012
Description
How to Draw & Paint Fashion & Costume Design, the third book in the Walter Foster Collectibles series, contains yet another extraordinary collection of vintage Walter Foster titles from the 1940s through the 1960s, including Female Fashion, How to Draw and Paint Today's Fashions, How to Draw and Paint Fashions, and the Art of Costume Design. In addition to providing an overview of basic drawing and painting techniques, artists will learn how to capture figures in various poses, as well as the dynamics of facial features and expressions, and other elements of drawing. Additionally, this colorful 128-page book features easy-to-follow step-by-step instructions for rendering a range of early 20th-century fashions and theatrical costumes. From casual wear and formal gowns to textures, hats, and shoes, artists who are fond of vintage fashion and eras gone by will appreciate the book for both its instructional qualities and aesthetic and collectible values.
About the Author
Founded in 1922 by artist Walter T. Foster, Walter Foster Publishing, an imprint of The Quarto Group, is the world's leading publisher of instructional art books and kits for adults and children. Walter Foster's diverse selection of drawing, painting, doodling and mixed media art books and kits have created a foundation for millions of beginning, intermediate, and advanced artists looking to hone their talents, learn new techniques, and discover different mediums. From color mixing recipes and art tools to the fundamentals of drawing and painting, Walter Foster's books cover a wide variety of topics and mediums across a broad spectrum of traditional and eclectic subject matter for artists of all skill levels. Walter Foster Publishing continues to expand its offerings every year, producing cutting-edge art-instruction books and kits for a worldwide audience.
Praise For How to Draw & Paint Fashion & Costume Design: Artistic Inspiration and Instruction from the Vintage Walter Foster Archives…
Walter Foster has been producing straightforward step-by-step art instruction books for more than 90 years. In this new guide, the company digs deeply into its archives to provide fashion figure drawing instruction that surveys 20th-century fashion. By viewing sketches from the 1920s through the 1960s, readers can render their versions of women's and men's fashions of the day. A chapter on theatrical costumes also uses vintage drawings to present a variety of period, burlesque, and Hollywood costumes. ­VERDICT: This will appeal to retro fans and those with strong nostalgic sensibilities much more than to the fashion-forward set. - Library Journal
Advertisement