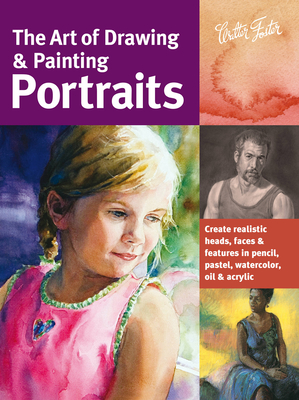 The Art of Drawing & Painting Portraits (Paperback)
Create realistic heads, faces & features in pencil, pastel, watercolor, oil & acrylic (Collector's Series)
Walter Foster Publishing, 9781600582677, 144pp.
Publication Date: September 1, 2012
* Individual store prices may vary.
Description
With instructions and step-by-step projects for creating an array of portaits, this all-inclusive book covers everything about portraiture in the most popular drawing and painting media. Ideal for beginning artists who would like to experiment with different media, The Art of Drawing & Painting Portraits teaches the artist how to create beautiful and realistic portraits in pencil, pastel, watercolor, oil, and acrylic.
About the Author
Timothy Chambers believes that painting isnÃ?t something one chooses so much as something one is compelled to do. After being trained as a young child by his father, distinguished artist William T. Chambers, Tim spent more than 10 years in apprenticeships with other great artists, including Richard Lack, Henry Hensche, and Cedric B. Egeli. Tim continues the Chambers family tradition by teaching his own children to paint. He also teaches students in workshops across the US and in Central America. He resides in beautiful rural Virginia with his stupendously beautiful wife and children. Tim echoes artist Charles HawthorneÃ?s advice when it comes to painting: "Have enthusiasm--it helps your work if you have a good time."
Award-winning artist Ken Goldman is an internationally known artist, author, teacher, and art juror. His work has been exhibited in group and solo exhibitions in Holland; Paris; Mexico; New York; Boston; Washington, D.C.; the Oceanside Museum of Art: 100 Artists, 100 Years 1915-2015; the International Fabriano en Acquarello 2015 (Italy); China's Shenzhen International Biennial 2013-2014; and the Shanghai International Biennial 2012-2013. He currently serves as president of the National Watercolor Society. Visit www.goldmanfineart.com.
Timothy Chambers (Purcellville, VA) trained as a young with his father, artist William T. Chambers, and spent more than ten years in apprenticeships with other great artists. Ken Goldman (San Diego, CA) is an instructor at the Athenaeum School of the Arts in La Jolla, California, where he teaches portraiture, artistic anatomy, and landscape painting classes. Peggi Habets is an award-winning watercolor artist located in Pittburgh, PA. She was nominated as Pittgsburgh Center for the Arts "Emerging Artist of the Year 2008," and her work has been featured in a number of magazines. Lance Richlin (Los Angeles, CA) has taught every aspect of classical art. He has shown his work in many galleries across California, and he has exhibited work at museums in California, Texas, and Washington.
A master of drawing, painting, and sculpture, Lance Richlin (Los Angeles, CA) has taught every aspect of classical art-from anatomy and perspective to traditional oil painting techniques. He has lectured at several art colleges in southern California, including Art Center College of Design, Otis College of Art and Design, and California Institute of the Arts, and he holds workshops in his atelier. He has shown his work in galleries across California and has exhibited in museums around the USA.