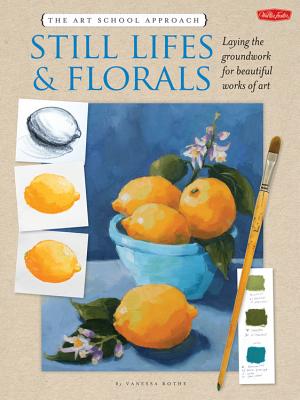 The Art School Approach: Still Lifes & Florals: Laying the Groundwork for Beautiful Works of Art (Spiral)
Still Lifes & Florals: Laying the Groundwork for Beautiful Works of Art
Walter Foster Publishing, 9781600582899, 128pp.
Publication Date: August 1, 2012
* Individual store prices may vary.
or
Not Currently Available for Direct Purchase
Description
Welcome to art school This book goes beyond typical step-by-step drawing and painting books and delves into the fundamental framework of art and technique. Readers will feel as though they have their own art tutor as they learn lessons similar to those taught in an entry-level college art course. Topics include composition, perspective, form, value, color and mixing, lighting, and, most importantly, how these concepts relate specifically to still lifes and florals. With design and instructional elements, including chapter outlines, review sections, and "extra credit" exercises, readers will feel more than ready to take the next steps in their art education upon finishing this comprehensive book.
About the Author
Vanessa Rothe is a classically trained professional artist who has exhibited alongside the nation's top artists. She is a signature member of known art clubs and societies and is an editor at Fine Art Connoisseur magazine. With a painting style that is refined yet accessible for beginning and intermediate artists, she teaches group and private oil painting lessons in California and France. Vanessa earned a business and literature degree with honors from USD and UCI, and she studied fine art at the Laguna College of Art & Design and through internships with artists and ateliers.
Advertisement