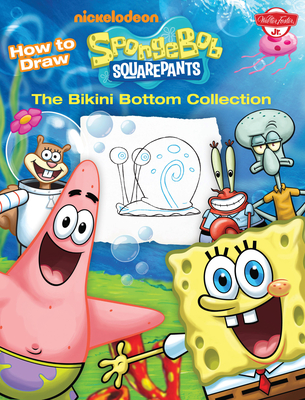 How to Draw SpongeBob SquarePants (Paperback)
The Bikini Bottom Collection (Licensed Learn to Draw)
Walter Foster Jr, 9781600582974, 64pp.
Publication Date: September 30, 2012
Other Editions of This Title:
Library Binding (5/24/2000)
* Individual store prices may vary.
Description
With How to Draw Nickelodeon's SpongeBob SquarePants®: The Bikini Bottom Collection, anyone can share the fun of this bubbly yellow sea sponge's adventures with his whole crew of friends. Learn to draw and animate SpongeBob, his pet snail Gary, best buddies Patrick Star and Sandy Cheeks, neighbor Squidward, and other seaworthy characters from the TV show and feature film in a variety of moods and poses. Special tidbits about SpongeBob, his nautical neighbors, and their world will help the bubbly characters come to life in the most entertaining saltwater paradise in the world—Bikini Bottom!

In this book, after an introduction to art tools and materials, a series of drawing exercises invites artists to warm up and learn a few basic drawing techniques. Then the real fun begins! The easy-to-follow instructions will guide you through the drawing process; each step builds upon the last until the character is complete! You just need to grab a pencil, a piece of paper, and your copy of How to Draw Nickelodeon's SpongeBob SquarePants®: The Bikini Bottom Collection, and flip to the character you want to draw. You'll draw the basic shapes shown in step one, and move on to step two, step three, and keep going! The new lines in each step are shown in blue, so you'll know exactly what to draw. After adding all the details in each step, darken the lines you want to keep and erase the rest. Finally, add color to your SpongeBob SquarePants drawing with felt-tip markers, colored pencils, watercolors, or acrylic paints.

With easy-to understand language, clear step-by-step illustrations, and a number of animation secrets, this book is a must-have for all SpongeBob SquarePants fans who want to learn how to draw and animate their favorite characters—including the most absorbent guy in the sea, SpongeBob SquarePants!
About the Author
Founded in 1922 by artist Walter T. Foster, Walter Foster Publishing, an imprint of The Quarto Group, is the world's leading publisher of instructional art books and kits for adults and children. Walter Foster's diverse selection of drawing, painting, doodling, and mixed media art books and kits have created a foundation for millions of beginning, intermediate, and advanced artists looking to hone their talents, learn new techniques, and discover different mediums. From color mixing recipes and art tools to the fundamentals of drawing and painting, Walter Foster's books cover a wide variety of topics and mediums across a broad spectrum of traditional and eclectic subject matter for artists of all skill levels. Walter Foster Publishing continues to expand its offerings every year, producing cutting-edge art-instruction books and kits for a worldwide audience.