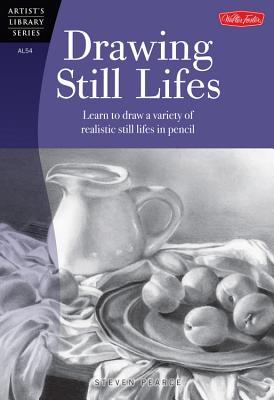 Drawing Still Lifes (Paperback)
Walter Foster Publishing, 9781600583346, 64pp.
Publication Date: July 1, 2013
Description
Still lifes consist of everything from traditional wine and cheese set-ups and fruit and flower compositions to more complex arrangements, such as pottery, porcelain, and glassware. As a fundamental topic in art instruction, drawing still lifes appeals to beginning and intermediate artists alike. In Drawing Still Lifes, beginningartists will learn everything they need to know for achieving realistic still lifes in pencil, and intermediate artists will have an opportunity to brush up on key pencil-drawing skills. From choosing the right drawing paper, tools, and materials and understanding how to hold and handle the pencil to learning how to arrange compelling compositions and mastering basic pencil strokes, Drawing Still Lifes features valuable information for learning to draw using pencil as your medium. Approachable instruction from a professional artist includes information for selecting subject matter, setting up balanced compositions, lighting scenes properly, mastering perspective, and using reference photos to draw three-dimensional objects by building up form and adding shading. Also included is helpful information for creating a value scale and rendering a diverse range of textures, such as fabric, glass, wood, metal, water, and foliage, among others. With its combination of art tips, drawing techniques, and easy-to-follow step-by-step drawing projects, as well as breathtakingly realistic artwork to encourage and inspire, artists will be well on their way to creating beautiful graphite-pencil still life drawings of fruit, plants, trees, shrubbery, flowers, tabletop scenes, and more, from start to finish. Discover how fun and engaging pencil drawing can be with Drawing Still Lifes.
About the Author
Like many artists, Steven Pearce got his start at a very early age. His mother was an accomplished oil painter, and his father was an oil painter, sculptor, and master jeweler. Their encouragement and valuable knowledge helped Steven grow as an artist. Creating art with a pencil has been and continues to be a passion of Steven's, and is always at the forefront of the mediums he uses. He enjoys experimenting with other media, including colored pencil, oil, and acrylics. Steven loves drawing portraits, still life, wildlife, landscapes, and anything that represents well in graphite and charcoal.www.srpearceart.com
Advertisement