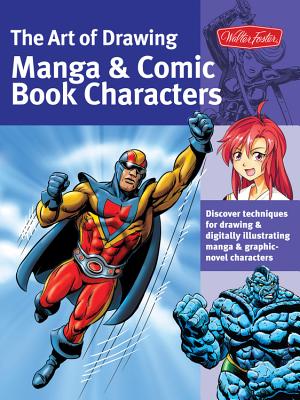 The Art of Drawing Manga & Comic Book Characters (Paperback)
Discover techniques for drawing & digitally illustrating manga & graphic-novel characters (Collector's Series)
Walter Foster Publishing, 9781600583391, 144pp.
Publication Date: September 1, 2013
* Individual store prices may vary.
Description
Graphic novel illustration is a popular and growing art form among artists of all skill levels and backgrounds. The Art of Drawing Manga & Comic Book Characters offers as a comprehensive resource for all things manga, chibi, and graphic novel character design through its diverse offerings. From basic pencil drawing and illustration techniques to composition, color theory, and character construction, The Art of Drawing Manga & Comic Book Characters provides in-depth instruction for rendering a wide variety of characters, including manga warriors, chibi humans, chibi animals, super-chibis, cartoon characters, comic-inspired superheroes, and other exciting graphic-illustration characters in an easy-to-understand and digestible format. The book opens with valuable information on the tools and materials one needs to get started, including pencils, paper and supports, erasers, and traditional color tools. Accomplished artists Bob Berry and Jeannie Lee provide instruction on everything from basic figure drawing and perspective to capturing facial features; mastering expressions; rendering clothing, props, and accessories; and creating scenes and backdrops. Following the step-by-step drawing lessons, artists will learn how to put the elements together as they construct a fun assortment of characters, eventually learning how to draw characters of their own creation. Tips for giving characters personalities and writing their stories round out this comprehensive drawing guide, designed to be a permanent art-instruction resource for all manga, comic book, and graphic novel enthusiasts.
About the Author
Bob Berry has been an artist, illustrator, and character and graphic designer for more than 15 years. While the mainstay of Bob Berry's work is for children's publishing and textbooks, Bob has also provided art and illustration for CDs, children's games, toy packaging, and more. Visit bobberryillustration.com.
Jeannie Lee's art education includes more than seven years of instruction under contemporary Western artist Ji Young Oh, as well as two years studying traditional character animation at California Institute of the Arts. Her work experience spans across multiple companies, including Gaia Interactive, Marvel Entertainment, Inc., TOKYOPOP, and UDON Entertainment. She currently works as a senior artist at Sanshee and letters manga for UDON and VIZ Media (and fits video games and anime in wherever she can).