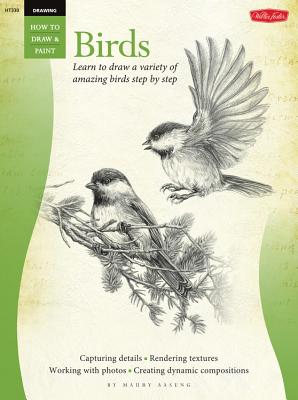 Drawing: Birds: Learn to Draw a Variety of Amazing Birds Step by Step (Paperback)
Birds: Learn to Draw a Variety of Amazing Birds Step by Step
Walter Foster Publishing, 9781600583407, 32pp.
Publication Date: March 15, 2013
Description
Birds are an intriguing subject for artists of all skill levels, and aspiring illustrators and bird enthusiasts alike will find creative inspiration and valuable drawing instruction in Drawing: Birds. This comprehensive book opens by introducing pencil artists to the essential drawing tools, including graphite pencils, erasers, paper, and other materials. Valuable information on the different types of drawing pencils and the strokes they produce, as well as suggestions for ways to handle the pencil establishes the content to follow, including how to render a variety of techniques, such as shading, stippling, hatching, crosshatching, and others. Aspiring artists will also discover helpful tips for creating composition, understanding and seeing value, transferring photo references, and taking artistic liberties. Professional artist and nature enthusiast, Maury Aaseng, offers simple, comprehensive instruction for drawing a range of lovely birds, as well as information for achieving accurate proportions, capturing motion, and building up form. Special attention is given to creating realistic textures, such as feathers, bark, nests, and water. With easy step-by-step projects that start with basic shapes and progress to detailed final drawings, artists will learn to draw many birds of a feather, from the common to the exotic. Artists will explore the sizes and shapes of birdlife, including a golden eagle, crane, finch, pelican, and more. Easy-to-follow instruction and art tips throughout make Drawing: Birds a complete guide for artists desiring to create realistic and detailed drawings of their flighty feathered friends. For the aspiring avian artist, Drawing Birds is a must-have art-instruction reference.
About the Author
Maury Aaseng has always been excited about drawing and art. After graduating with a BFA in graphic design from the University of Minnesota--Duluth, he moved to San Diego to begin an illustration career. His freelance work over the last eight years has spanned a variety of subject matter and styles. The range of his work has included anatomical illustration and cartoons for medical textbooks, informative illustrations for young adult nonfiction, custom watercolor work for independent authors, and logo design and creation. The variety has continued to fuel the creative spark that makes illustration work rewarding for him. In 2010, his artwork was featured in the Upstream People Gallery 7th Annual Color: Bold/Subtle Juried Online International Art Exhibition. An avid nature enthusiast, Maury moved back to Duluth in 2009, where he supplements his illustration work with wildlife photography and painting, hiking, skiing, and canoeing in the northern forests that border Canada. Maury lives with his wife, who works as a graphic designer at the university.
Advertisement