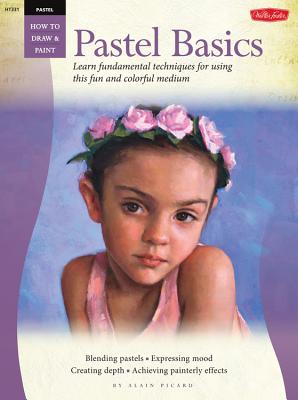 Pastel: Basics: Learn Fundamental Techniques for Using This Fun and Colorful Medium (Paperback)
Basics: Learn Fundamental Techniques for Using This Fun and Colorful Medium
Walter Foster Publishing, 9781600583414, 32pp.
Publication Date: May 20, 2013
Description
Pastel is a versatile medium unlike any other. Although beginning artists are often interested in pastel, the medium can appear intimidating to the novice. With its comprehensive introduction, tips, techniques, and easy-to-follow instruction, Pastel Basics seeks to create a fun and approachable means of introducing this adaptable medium to beginning artists, illustrating that pastels are accessible to any artist who wants to work with them. This book covers the basic pastel tools and materials, as well as the differences between hard and soft pastels and how to use them. Accomplished artist Alain Picard provides an in-depth introduction to color theory, training aspiring artists how to use and blend pastel colors effectively to achieve the desired temperature, mood, and atmosphere, as well as to create depth and movement. Artists will discover how to achieve soft and vibrant effects, render light and shadow, and achieve a range of textures with this delicate and soft medium. In addition, artists will learn how to create a range of strokes using myriad techniques, such as stippling, hatching, blending, and more, and discover methods for creating brilliant skies, realistic reflections, luminous light, velvety tones, and deep shadows. Simple step-by-step projects allow artists of all abilities to put their newfound pastel skills to use and include such subjects as a landscape, a portrait, and a still life. With expert instruction, a breadth of coverage, helpful tips, and colorful illustrations, Pastel Basics is the perfect resource for artists wanting to get started using this fun and vibrant medium.
About the Author
Alain Picard earned a BA in illustration from Western CT State University and went on to study at the Art Student's League in New York City. Picard sites Sargent, Degas, and Sorolla among his artistic influences. A love of light and beauty are immediately apparent in his pastel and oil paintings. Alain's work has been featured in such publication as as The Artist's Magazine and The Pastel Journal. He has garnered top awards throughout the Northeast in esteemed exhibitions including the Portrait Society of America, the Hudson Valley Art Association, the Connecticut Society of Portrait Artists, the Connecticut Pastel Society, and the Pastel Society of America. Alain is a signature member of the Pastel Society of America as well as the Connecticut Pastel Society, where he previously served as President. In 2004 The Artist's Magazine highlighted Alain as one of 20 contemporary artists "On the Rise." He later won the Best Portfolio Award at the 2009 Portrait Society of America Conference in Washington, D.C. A frequent workshop instructor and demonstrator for art associations, schools, galleries, and museums, Alain was recently invited to demonstrate a portrait in pastel at the Metropolitan Museum of Art in New York City. He lives with his wife and two sons in Southbury, Connecticut. Visit www.picardstudio.com.
Advertisement