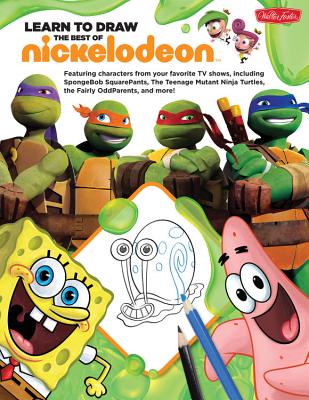 Learn to Draw The Best of Nickelodeon (Paperback)
Featuring characters from your favorite TV shows, including SpongeBob SquarePants, The Teenage Mutant Ninja Turtles, the Fairly OddParents, and more! (Licensed Learn to Draw)
Walter Foster Jr, 9781600583438, 64pp.
Publication Date: July 31, 2013
* Individual store prices may vary.
Description
For years, Nickelodeon has been creating countless clever, funny, and entertaining TV shows, from SpongeBob SquarePants, Rugrats, and The Fairly OddParents to The Adventures of Jimmy Neutron, Rocket Power, and Avatar. In Learn to Draw the Best of Nickelodeon, young artists and Nickelodeon fans alike will discover how to draw all of their favorite Nickelodeon characters from these shows and others. After introducing artists to the tools and materials they need to get started, a series of drawing exercises invites artists to warm up and learn a few basic drawing techniques. Then the real fun begins! Simple-to-follow step-by-step drawing lessons demonstrate just how easy it is to begin drawing favorite Nickelodeon characters, including SpongeBob SquarePants, Patrick Star, Gary, Squidward Tentacles, and Sandy Cheeks, as well as other popular characters, including Cosmo, Timmy, Jimmy Neutron, Cindy Vortex, Otto Rocket, Tommy Pickles, Angelica Pickles, Aang, Appa, Katara, and scads more! Each drawing project starts with a basic line or shape, such as a circle, and then follows several progressive steps, each building on the previous, and culminating in a final color drawing. Additionally, each new step is shown in blue so young artists know exactly what with each new step. Along the way, professional Nickelodeon illustrators share helpful art tips and tricks for capturing each character's unique look and personality. With approachable projects and fun subject matter, this book will have young artists drawing their favorite Nickelodeon characters in no time!
About the Author
Founded in 1922 by artist Walter T. Foster, Walter Foster Publishing, an imprint of The Quarto Group, is the world's leading publisher of instructional art books and kits for adults and children. Walter Foster's diverse selection of drawing, painting, doodling and mixed media art books and kits have created a foundation for millions of beginning, intermediate, and advanced artists looking to hone their talents, learn new techniques, and discover different mediums. From color mixing recipes and art tools to the fundamentals of drawing and painting, Walter Foster's books cover a wide variety of topics and mediums across a broad spectrum of traditional and eclectic subject matter for artists of all skill levels. Walter Foster Publishing continues to expand its offerings every year, producing cutting-edge art-instruction books and kits for a worldwide audience.