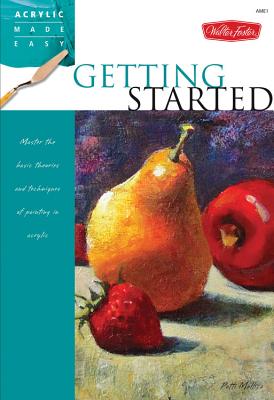 Getting Started (Paperback)
Master the basic theories and techniques of painting in acrylic (Acrylic Made Easy)
Walter Foster Publishing, 9781600583605, 64pp.
Publication Date: November 1, 2013
* Individual store prices may vary.
Description
Acrylic Made Easy is a new dynamic technique and project-driven series devoted to introducing beginning and intermediate artists to the fun and engaging world of acrylic painting. With a fresh and simple approach, this debut title, Getting Started, teaches artists everything they need to know about working with acrylic paint. Beginning with an overview on a variety of tools and materials, artists will learn how to select the right brushes, palettes, paints, paper, and surfaces for their work. This introductory guide also covers various acrylic gels and mediums and how to use them with acrylic paint to achieve various effects. Getting Started also provides artists with an overview of basic color theory and how to mix colors effectively, plan a composition, and achieve proper perspective. Additionally, fine artists will learn a range of basic painting techniques, such as creating washes, drybrushing, stippling, scumbling, and more. Expert artist Patti Mollica provides tips and techniques for creating an array of textures, building up layers, and adding details. Through a collection of approachable step-by-step projects artists will be able to put their newfound acrylic skills to use, starting with initial sketches and culminating in final works of art. Subject matter ranges from landscapes, to still life, to portraits, and more. Covering a wide range of content, subject matter, and techniques, for beginning and intermediate artists alike will find Getting Started a valuable resource for their art library. With inspiration, instruction, and professional tips and tricks on virtually every page, this full-color book is the perfect resource for acrylic artists.
About the Author
Patti Mollica is an impressionistic and contemporary painter who believes that a painter's job is to show the viewer the inherent beauty of all subjects and scenes. She is the author of several books on painting, including Artist Toolbox: Color, Getting Starting: Master the basic theories and techniques of painting in acrylic, Modern Acrylics, Special Subjects: Basic Color Theory, and Color Theory. She was selected by Golden Paints to conduct lectures and facilitate workshops demonstrating "Creative Techniques Using Golden Paints and Mediums." She lives and works in New York City and Nyack.