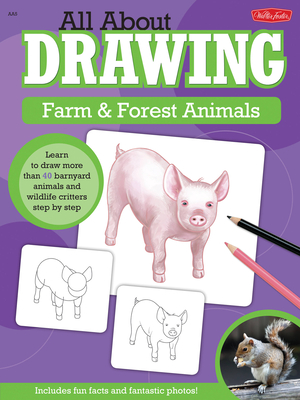 All about Drawing Farm & Forest Animals: Learn to Draw More Than 40 Barnyard Animals and Wildlife Critters Step by Step (Paperback)
Learn to Draw More Than 40 Barnyard Animals and Wildlife Critters Step by Step
Walter Foster Jr, 9781600583612, 80pp.
Publication Date: September 1, 2013
Description
All About Drawing Farm & Forest Animals is an adventurous addition to Walter Foster's All About Drawing Series. Children will enjoy immersing themselves in the animal kingdom, while learning to draw a range of farm and forest animals that run the range from cute to majestic, peaceful to ferocious. This fun and educational instructional drawing book opens with a quick look at the materials young artists need to get started, as well as warm-up drawing exercises and art tips. Then, starting with a basic shape, such as a square, a circle, or an oval, children will be invited to follow step-by-step instructions for completing each drawing project in simple stages, from initial shape to realistic finished drawing. Children will learn to draw a bald eagle, a gentle deer, a grizzly bear, a cow, a chicken, a pig, and more--plus a barn In addition, young artists will also learn a variety of fascinating facts about the subjects as they draw them, as well as useful drawing tips to help guide them along the way. With engaging text about each subject, All About Drawing Farm & Forest Animals educates children as they draw for an enjoyable, well-rounded artistic experience. Whether they're nature lovers or simply enjoy animals of all kinds, children will love drawing these wild and tame animals of the forest and farm.
About the Author
Robbin Cuddy began her career designing packaging for toys, games, and puzzles. She eventually became a freelance illustrator and concentrates primarily on children's books. She resides in Palm Beach Gardens, Florida.
Advertisement