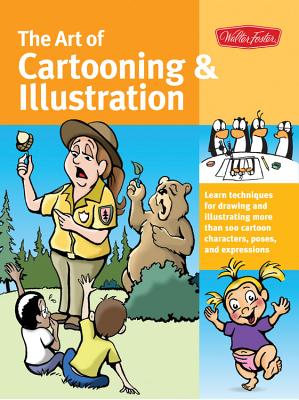 The Art of Cartooning & Illustration (Paperback)
Walter Foster Publishing, 9781600583636, 144pp.
Publication Date: January 1, 2014
Description
From the scholarly cartoons of The New Yorker to the laugh-out-loud illustrations of the Sunday funnies, cartooning and animation have been popular artistic genres for myriad eras. In The Art of Cartooning & Illustration, aspiring cartoon artists will learn the basics of traditional cartooning and animation, as well as how to develop their own unique cartooning style, write storylines, and create gags. Beginning with an overview of the basic tools and materials, artists will discover everything they need to know about selecting and using pencils, erasers, paper, markers, and pens. This all-inclusive resource introduces artists to the elements of the craft, including composition, perspective, foreshortening, and color theory, supplying them with the valuable knowledge they need to achieve their desired results. Artists will learn a variety of cartooning techniques, such as the squash and stretch principle, exaggerating details, anthropomorphizing inanimate objects, and more. Beginning and experienced cartoonists alike will find comprehensive instructions for creating contemporary characters and expressions, from heads, to hands, to body shapes. Then artists will learn how to put those characters in action by creating movement, such as walking, jumping, dancing, and stretching. And no cartoon would be complete without learning to write dialogue. The Art of Cartooning & Illustration also includes helpful tips and suggestions for lettering and drawing voice balloons, as well as coordinating dialogue with movement. Finally, this book instructs artists on how to use digital imaging software to add color and special effects to their finished artwork. With its breadth of subject matter and instruction, The Art of Cartooning & Illustration is a must-have for any cartoonist's library.
About the Author
Maury Aaseng has always been excited about drawing and art. After graduating with a BFA in graphic design from the University of Minnesota--Duluth, he moved to San Diego to begin an illustration career. His freelance work over the last eight years has spanned a variety of subject matter and styles. The range of his work has included anatomical illustration and cartoons for medical textbooks, informative illustrations for young adult nonfiction, custom watercolor work for independent authors, and logo design and creation. The variety has continued to fuel the creative spark that makes illustration work rewarding for him. In 2010, his artwork was featured in the Upstream People Gallery 7th Annual Color: Bold/Subtle Juried Online International Art Exhibition. An avid nature enthusiast, Maury moved back to Duluth in 2009, where he supplements his illustration work with wildlife photography and painting, hiking, skiing, and canoeing in the northern forests that border Canada. Maury lives with his wife, who works as a graphic designer at the university.Clay Butler is the creator of the weekly alternative political comic strip "Sidewalk Bubblegum," co-founder of Claytowne Productions documentary video production company and creator of the online PC Technology humor magazine Pctyrant (an oldie but a goodie), A darn good illustrator, cartoonist, graphic designer, web designer, concert photographer and writer, Clay has been working professionally since 1984.Dan D'Addario has been drawing as far back as he can remember. It wasn't until he was in college, that one of his art instructors encouraged him to try doing caricature drawings for a High School Graduation party in 1977. He was hooked! Since then Dan has never looked back!Dan is a freelance illustrator and caricaturist in Macomb Township, Michigan. Dan's career spans almost 30 years as a graphic designer in the automotive field, while pursuing his passion of caricatures and cartooning. From 1996 until 2008, Dan freelanced editorial cartoons for Crain's Detroit Business Magazine.Based out of Nottinghamshire, England, Jim Campbell is a professional comic-book letterer, one-time writer (perhaps again in the future!) and occasional artist (although his enthusiasm rather outstrips his actual ability).A native of the United Kingdom, cartoonist Alex Hallat has never had any art training--just a limited attention span, a love of comics, and a tendency to doodle in lectures at college. She started cartooning fulltime in 1999 and was immediately hired as the cartoonist for Brighton's daily newspaper. In 2003, Alex immigrated to New Zealand but currently lives in the leafy bayside suburb of Elwood, Melbourne in Australia. She has clients in the UK, New Zealand, and Australia and works with the American syndicate King Features, who distributes her comic strip, Arctic Circle.Jack Keely (Los Angeles, CA) grew up in Binghamton, New York, where his interest in illustration and art began at a young age. He spent much of his childhood drawing from comic books and inventing his own characters. He credits his parents for encouraging and cultivating his skills and talents. Jack went on to obtain his B.S.A. in illustration at the Rhode Island School of Design and his M.F.A. in design at the Cranbrook Academy of Art. To share his knowledge of these areas with others, Jack taught at North Carolina State University's School of Design and Ohio University. He also worked as an advertising art director for six years. In 1994, he moved to Los Angeles to concentrate on freelance illustration.
Advertisement