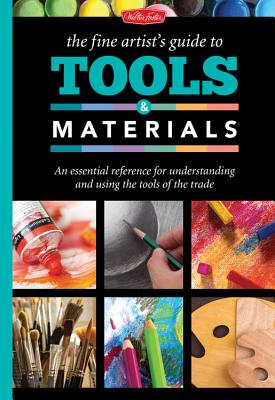 The Fine Artist's Guide to Tools & Materials: An Essential Reference for Understanding and Using the Tools of the Trade (Spiral)
An Essential Reference for Understanding and Using the Tools of the Trade
Walter Foster Publishing, 9781600583674, 176pp.
Publication Date: March 15, 2014
Description
Understanding and using the right tools and materials to create a work of art can make a monumental difference in appearance, texture, permanence, and more. No matter what medium an artist may use, there are many choices to make and things to consider when beginning a new work of art: what kind of surface or support to paint on, what type of brush to use, and how a medium will ultimately look on a chosen surface are just a few of the questions one might consider. The Fine Artist's Guide to Tools & Materials covers everything from pencils and brushes to surfaces and supports to mediums and varnishes, providing fine artists with a quick reference for not only understanding how to use an array of fine art tools, but also how the tools work best. Divided into four sections, this comprehensive resource is color-coded so information can be located quickly and easily. In this first section, artists will find basic information on available tools and materials, including a brief description of each item, what each item is used for, and safety tips for working with specific materials. The following sections specifically cover how to work with tools and materials specific to each medium: pencil drawing, acrylic, oil, pastel, and watercolor. Plenty of visual examples, comparisons, and color photos are included to help readers determine which paints, surfaces, implements, and other materials best fit their style and vision for their art. With its breadth of content and accessible information, The Fine Artist's Guide to Tools & Materials is a must-have for any aspiring or serious fine artist's home library.
About the Author
A lifelong lover of the arts, Elizabeth T. Gilbert earned a BA in English from the University of San Diego in 2003, where she also studied art and anthropology. Elizabeth spent the next eight years as an editor, writer, and in-house artist for Walter Foster Publishing. In 2009, she co-authored The Daily Book of Art: 365 readings that teach, inspire & entertain. Currently she is a freelance writer, editor, and artist working in Colorado, where she lives with her husband, their young son, and a mischievous cat.
Advertisement