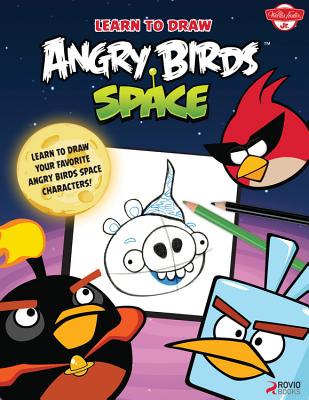 Learn to Draw Angry Birds Space (Paperback)
Walter Foster Publishing, 9781600583681, 64pp.
Publication Date: August 1, 2013
* Individual store prices may vary.
or
Not Currently Available for Direct Purchase
Description
The ever-growing popularity of the Angry Birds video game has sparked a worldwide phenomenon. What started as a fun, quirky game in 2009 has since evolved into a full-fledged movement with a huge online presence and fan base that includes hundreds of millions of children, teens, and adults. Now, with "Learn to Draw Angry Birds Space, "fans of the growing franchise will learn to draw all of the Angry Birds Space characters in their supercharged versions from the Space edition of the game including new names, outfits, and special features. Young aspiring artists will be introduced to Super Red Bird, Lavender Lazer Bird, Ice Bomb Bird, Firebomb Bird, Monster Bird, and the Lightning Birds; they will also learn how to draw a frozen version of Fat Pig, Moustache Pig inside of a bubble, King Pig wearing a tin foil hat, and Major Pig sporting an antenna. Just like "Learn to Draw Angry Birds," each lesson features easy-to-follow, step-by-step instructions. Each drawing lesson in "Learn to Draw Angry Birds Space" begins with a basic shape, such as a circle or an oval, with each step building upon the previous and progressing to a finished final color artwork. New steps are shown in blue so young artists know exactly what to draw next. Brief character profiles introduce readers to the Space versions of their favorite birds and pigs, while a size chart helps aspiring artists capture accurate proportions.
About the Author
Founded in 1922 by artist Walter T. Foster, Walter Foster Publishing, a division of Quarto Publishing Group USA and a subsidiary of the London-based Quarto Group, Inc., is the world's leading publisher of instructional art books and kits for adults and children. Walter Foster's diverse selection of drawing, painting, doodling and mixed media art books and kits have created a foundation for millions of beginning, intermediate, and advanced artists looking to hone their talents, learn new techniques, and discover different mediums. From color mixing recipes and art tools to the fundamentals of drawing and painting, Walter Foster's books cover a wide variety of topics and mediums across a broad spectrum of traditional and eclectic subject matter for artists of all skill levels. Walter Foster Publishing continues to expand its offerings every year, producing cutting-edge art-instruction books and kits for a worldwide audience.
Advertisement