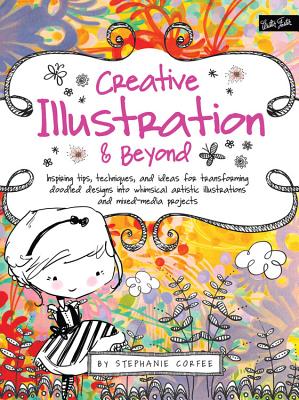 Creative Illustration & Beyond (Paperback)
Inspiring tips, techniques, and ideas for transforming doodled designs into whimsical artistic illustrations and mixed-media projects (Creative...and Beyond)
Walter Foster Publishing, 9781600583728, 144pp.
Publication Date: November 15, 2013
* Individual store prices may vary.
Description
You learned the fine art of doodling with Walter Foster's bestselling Creative Doodling & Beyond. Now take your doodled designs to the next level with the entertaining, engaging, and creative ideas and activities in Creative Illustration & Beyond. From illustrating characters from basic shapes and stylizing everyday objects to creating dynamic illustrative layouts and intricately rendered word art, professional artist Stephanie Corfee captivates and charms doodle enthusiasts and aspiring illustrators from the very first page of this colorful and interactive illustration journal. After a brief introduction to illustration tools and materials, Stephanie dives right in with imaginative warm-up exercises, followed by motivating prompts to get the creative juices flowing. Next, an assortment of step-by-step projects guides readers through the creative process for transforming doodles and designs into inviting and colorful illustrations that can be used for a variety of purpose, including postcards, stationery, scrapbook pages, wall art, room décor, jewelry, and much more! Throughout the book, artists are invited to practice their techniques, sketch concepts, make notes, and brainstorm creative illustration ideas right inside the beautifully designated spaces. The perfect follow-up to Creative Doodling & Beyond, Creative Illustration & Beyond is as approachable to the beginner as it is appealing to lifelong doodlers and illustrators of all skill levels. Packed with inspiration, tips, and stunning illustrations designed to encourage and educate, this engaging and colorful book is sure to delight the doodler at heart.
About the Author
Painter, illustrator, and graphic designer Stephanie Corfee is the author of several books on art and illustration, including Paint Lab for Kids, Fashion Design Workshop, Creative Doodling & Beyond, and Creative Illustration & Beyond. She has licensed her artwork for use on home goods, wall decor, apparel, and other products to such clients as Lil Blue Boo, Oopsy Daisy, and Target, and sells commissioned artwork, prints of her illustrations, and one-of-a-kind accessories online. Stephanie also offers tutorials, downloads, and online workshops on her website/blog, StephanieCorfee.com. She lives outside of Philadelphia, Pennsylvania.
or
Not Currently Available for Direct Purchase