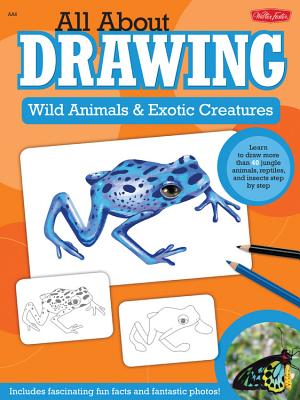 All About Drawing Wild Animals & Exotic Creatures (Paperback)
Learn to draw 40 jungle animals, reptiles, and insects step by step
Walter Foster Jr, 9781600583759, 80pp.
Publication Date: March 1, 2014
* Individual store prices may vary.
Description
All About Drawing: Wild Animals & Exotic Creatures is an adventurous addition to Walter Foster's All About Drawing Series and includes material from the following children's Learn to Draw titles: Learn to Draw Reptiles & Amphibians, Learn to Draw Rainforest & Jungle Animals, and Learn to Draw Insects. Children will enjoy immersing themselves in the animal kingdom, while learning to draw a variety of wild animals and exotic creatures that run the range from small and slow to fast and ferocious. This fun and educational instructional drawing book opens with a quick look at the materials young artists need to get started, as well as warm-up drawing exercises and art tips. Starting with a basic shape, such as a square, a circle, or an oval, children are invited to follow step-by-step instructions for completing each drawing project in simple stages, from initial shape to realistic finished drawing. Young artists will learn to draw some of their favorite wild animals and exotic creatures, including a toucan, galapagos tortoise, king cobra, bearded dragon, gorilla, jaguar, and many more! In addition, children will learn fascinating facts about the subjects as they learn to draw them, as well as useful drawing tips to help guide them along the way. With engaging text about each subject, All About Drawing: Wild Animals & Exotic Creatures educates and entertains children as they draw for an enjoyable, well-rounded artistic experience. Whether they're nature lovers or simply enjoy animals of all species, young artists will love learning to draw these wild animals and exotic creatures.
About the Author
Founded in 1922 by artist Walter T. Foster, Walter Foster Publishing, an imprint of The Quarto Group, is the world's leading publisher of instructional art books and kits for adults and children. Walter Foster's diverse selection of drawing, painting, doodling, and mixed media art books and kits have created a foundation for millions of beginning, intermediate, and advanced artists looking to hone their talents, learn new techniques, and discover different mediums. From color mixing recipes and art tools to the fundamentals of drawing and painting, Walter Foster's books cover a wide variety of topics and mediums across a broad spectrum of traditional and eclectic subject matter for artists of all skill levels. Walter Foster Publishing continues to expand its offerings every year, producing cutting-edge art-instruction books and kits for a worldwide audience.
or
Not Currently Available for Direct Purchase