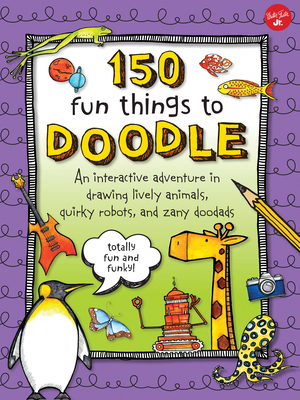 150 Fun Things to Doodle: An Interactive Adventure in Drawing Lively Animals, Quirky Robots, and Zany Doodads (Paperback)
An Interactive Adventure in Drawing Lively Animals, Quirky Robots, and Zany Doodads
Walter Foster Publishing, 9781600583766, 128pp.
Publication Date: May 1, 2014
Description
Anything goes in 150 Fun Things to Doodle - a comprehensive and interactive doodling experience for young artists-in-training. Featuring a wide range of popular subjects - from jungle animals, sea life, and pets to robots, tools, and even musical instruments - children will enjoy learning to draw in a new, interactive way thanks to engaging step-by-step lessons and fun creativity prompts. From doodling favorite animals and stylizing everyday objects to designing illustrative layouts and writing character storylines, aspiring artists will find loads of artistic inspiration as they work through the pages of this colorful, engaging, and interactive doodle journal. While step-by-step drawing lessons demonstrate how easy it is to render whimsical and quirky versions of traditional animals and objects, creative direction and prompts open young artists to a doodled world of their own imagination, including drawing their own galaxy and designing their own robot. Throughout the book, lots of open practice pages and doodling areas invite artists to further explore their creativity and develop their own drawing and doodling techniques. 150 Fun Things to Doodle is approachable to artists of all skill levels and is sure to foster a lifelong love for doodling and drawing. Contents include: Doodling What you See, Wild Animals, Sea Life, Creatures with Wings, Pets & Other Furry Friends, Quirky Gadgets, Science & Space Exploration, Building Tools, Stuff you Find at Home, and more
About the Author
Founded in 1922 by artist Walter T. Foster, Walter Foster Publishing, an imprint of The Quarto Group, is the world's leading publisher of instructional art books and kits for adults and children. Walter Foster's diverse selection of drawing, painting, doodling and mixed media art books and kits have created a foundation for millions of beginning, intermediate, and advanced artists looking to hone their talents, learn new techniques, and discover different mediums. From color mixing recipes and art tools to the fundamentals of drawing and painting, Walter Foster's books cover a wide variety of topics and mediums across a broad spectrum of traditional and eclectic subject matter for artists of all skill levels. Walter Foster Publishing continues to expand its offerings every year, producing cutting-edge art-instruction books and kits for a worldwide audience.
Advertisement