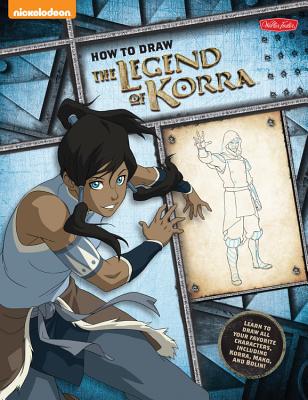 How to Draw the Legend of Korra: Learn to Draw All Your Favorite Characters, Including Korra, Mako, and Bolin! (Paperback)
Learn to Draw All Your Favorite Characters, Including Korra, Mako, and Bolin!
Walter Foster Publishing, 9781600583797, 64pp.
Publication Date: August 15, 2014
Description
Out of the Nickelodeon world that created Avatar: The Last Airbender comes The Legend of Korra, a sequel with new adventures and heroes The story begins 70 years after the events of the first Avatar series, following the death of former Avatar Aang. Avatar Korra is the reincarnation of the Avatar, a feisty teenage girl who is ready to prove herself in the world of element bending. With How to Draw The Legend of Korra, young artists-in-training can learn to bend the elements of art to bring to life their favorite characters - including Avatar Korra, brothers Mako and Bolin, airbending instructor Tenzin, and Amon, the mysterious leader of the anti-bending revolution. After introducing artists to the tools and materials they need to get started, readers are invited to learn a few basic drawing techniques and then warm up by following fun and easy drawing exercises. Then the real fun begins Easy-to-follow, step-by-step instructions begin with simple shapes, demonstrating just how easy it is to draw Korra, her friends, and their world. Each project starts with a basic line or shape, such as a circle or triangle, and then follows several progressive steps, each building on the previous and culminating in a final color drawing. Additionally, each new step is shown in blue so young artists know exactly what to draw next. Along the way, professional illustrators share helpful art tips and tricks. With approachable projects and exciting subject matter, this book will have young artists drawing their favorite Legend of Korra characters in no time
About the Author
Founded in 1922 by artist Walter T. Foster, Walter Foster Publishing, an imprint of The Quarto Group, is the world's leading publisher of instructional art books and kits for adults and children. Walter Foster's diverse selection of drawing, painting, doodling and mixed media art books and kits have created a foundation for millions of beginning, intermediate, and advanced artists looking to hone their talents, learn new techniques, and discover different mediums. From color mixing recipes and art tools to the fundamentals of drawing and painting, Walter Foster's books cover a wide variety of topics and mediums across a broad spectrum of traditional and eclectic subject matter for artists of all skill levels. Walter Foster Publishing continues to expand its offerings every year, producing cutting-edge art-instruction books and kits for a worldwide audience.
Advertisement