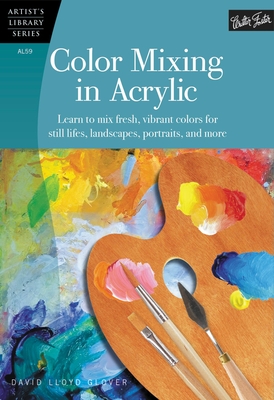 Color Mixing in Acrylic
Learn to mix fresh, vibrant colors for still lifes, landscapes, portraits, and more (Artist's Library)
Paperback

* Individual store prices may vary.
Description
Color is a key component in art and painting and a crucial aspect of successfully completing an acrylic painting. Ideal for beginning and intermediate artists seeking to develop their acrylic painting skills, Color Mixing in Acrylic features a range of techniques and valuable instruction for working with and mixing color in this classic medium. With this comprehensive guide, artists will learn how to mix fresh, vibrant colors in acrylic for painting almost any subject. Beginning with detailed information for using acrylic mixing tools and materials, Color Mixing in Acrylic introduces artists to the basics, including supports, color palettes, painting knives, mediums, and other essentials designed to assist in effectively using this fast-drying paint. Artists will learn about color theory, the color wheel, and basic color-mixing concepts, in addition to learning about primary, secondary and tertiary colors; color complements; hue; value; and saturation. Also included is detailed information for learning to mix common acrylics in every major color group, including vibrant greens for landscapes; soft flesh neutrals for portraits; and tints, shades, and tones for every color in between. Information is packaged in a comprehensive, easy-to-follow format and includes plenty of inspiration, so that artists can put their newfound skills to practical use. With its breadth of detail and helpful instruction, Color Mixing in Acrylic is a must-have resource for any acrylic painter's reference library.
Walter Foster Publishing, 9781600583889, 64pp.
Publication Date: August 15, 2014
About the Author
David Lloyd Glover was trained as an artist starting at the Victoria School of Fine Art while still in elementary school. David began working as a full-time editorial illustrator after high school and was mentored by the noted Canadian artist and cartoonist, Sid Barron. David had six illustrations published weekly by a major daily newspaper for five years. He then turned his illustration skills and discipline to a successful career in the graphic arts and advertising industry, gradually shifting to exclusively producing gallery artwork. For the past 28 years, David has been a full-time fine artist creating original works in watercolor, oil, and acrylic for galleries and fine-art publishers internationally. His subject matter is wide ranging, and his techniques are equally as varied. David paints in series that share a similar theme—from mountain landscapes and seascapes to still lifes and gardens of the United Kingdom. David also finds himself painting scenes of Japan, the missions of California, and country life in Tuscany. It all depends on where his interest has directed his artistic attention. Learn more about David by visiting www.davidlglover.com.