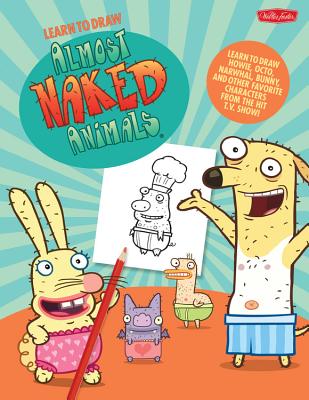 Learn to Draw Almost Naked Animals: Learn to Draw Howie, Octo, Narwhal, Bunny, and Other Favorite Characters from the Hit TV Show! (Paperback)
Learn to Draw Howie, Octo, Narwhal, Bunny, and Other Favorite Characters from the Hit TV Show!
Walter Foster Publishing, 9781600583940, 64pp.
Publication Date: February 1, 2014
* Individual store prices may vary.
or
Not Currently Available for Direct Purchase
Description
Almost Naked Animals debuted on Cartoon Network in 2011 and quickly rose to earn a spot as one of the Top 20 shows for boys ages 6+ on the network. Now children everywhere can learn to draw the funny, quirky gang of animal characters just as they appear on TV--"almost naked," with their fur shaven off and clad in only underclothes. In Learn to Draw Almost Naked Animals, young artists-in-training will recreate the animals in their tropical residence and workplace, an island resort called the Banana Cabana. With easy-to-follow, step-by-step instruction, each character and his unique persona will come to life on the page, whether a pink pig that is a ninjitsu-trained master chef, a yellow rabbit prone to mood swings, or a periwinkle narwhal known for singing and being self-centered. Featured lessons include Howie the Labrador, Octo the Octopus, Bunny the Rabbit, Duck, Piggy, Narhwal, Sloth, and Poodle, among others. Each project begins with a simple shape, such as a square or a circle, with each step building on the previous and progressing to a final piece of artwork. With tips and tricks from professional artists included along the way, children will be designing their own adventures featuring the Banana Cabana and its hilarious Almost Naked inhabitants in no time.
About the Author
Founded in 1922 by artist Walter T. Foster, Walter Foster Publishing, an imprint of The Quarto Group, is the world's leading publisher of instructional art books and kits for adults and children. Walter Foster's diverse selection of drawing, painting, doodling and mixed media art books and kits have created a foundation for millions of beginning, intermediate, and advanced artists looking to hone their talents, learn new techniques, and discover different mediums. From color mixing recipes and art tools to the fundamentals of drawing and painting, Walter Foster's books cover a wide variety of topics and mediums across a broad spectrum of traditional and eclectic subject matter for artists of all skill levels. Walter Foster Publishing continues to expand its offerings every year, producing cutting-edge art-instruction books and kits for a worldwide audience.
Advertisement