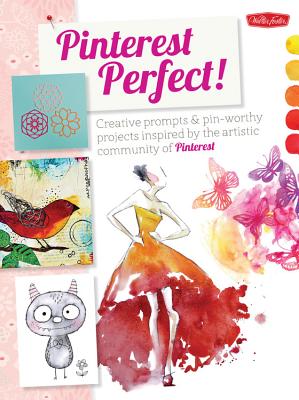 Pinterest Perfect!
Creative prompts & pin-worthy projects inspired by the artistic community of Pinterest
Paperback

* Individual store prices may vary.
Description
Pinterest is one of the fastest-growing social media sites on the Internet -- especially among creative professionals and arts & crafts enthusiasts. Beautifully designed to emulate the clean, elegant aesthetics of Pinterest that users recognize and love, Pinterest Perfect! features the artwork, projects, and inspirational designs of talented artists and crafters, each of whom enjoys a sizeable fan base in the digital space and elsewhere. Filled with step-by-step projects, tutorials, art tips, and crafting techniques on everything from drawing, painting, and illustration to mixed media, typography, and papercrafts, each featured artist shares her unique art style with readers in an interactive and engaging format. Each section features a brief introduction to the artist, followed by four to six easy-to-follow, step-by-step projects and/or art techniques. Open practice pages at the end of each section invite readers to brainstorm, sketch, and collect inspiration for their own artistic projects. In addition, useful sidebars throughout the book share tips for using Pinterest efficiently and effectively, as a hobbyist and professional artist. Sidebar topics include creating a virtual artist morgue, collaborating with others on community boards, using boards to promote a business or share a portfolio, and much more. One part inspiration, one part how-to, and filled to the brim with color, inspiration, and beautiful artwork, Pinterest Perfect! is the picture-perfect visual resource for any artist, crafter, or creative Pinterest enthusiast.
Praise For Pinterest Perfect!: Creative prompts & pin-worthy projects inspired by the artistic community of Pinterest…
"Who doesn't love finding awesome and easy ideas on Pinterest. I am no where near creative when it comes to crafting but I often find myself on there looking for homeschool ideas, workout ideas and even healthy recipes. There are times I can get totally sucked into it because there is just an endless supply of information. With that being said, I recently had the opportunity to check out a new book called, Pinterest Perfect! This stunning new book features the artwork, projects, and inspirational designs of talented artists and crafters, each of whom enjoys a sizeable fan base in the digital space and elsewhere. Thoughtfully divided into easy-to-digest sections, this captivating guidebook inspires readers to learn various techniques in an interactive and engaging format..." - AsTheyGrowUp.com
"Since its launch in 2010, Pinterest has been a destination for crafters looking for inspiration and ideas. This collection features eight crafters and active Pinterest users, each with a specific interest (e.g., paper crafts, mixed media, doodling). Each crafter has her own section that includes a profile, samples, and a selection of projects, most of them fairly basic. Since this is a Pinterest-themed book, the visual component is key, and all of the designs��even the simple ones��include plenty of illustrative photographs. VERDICT The variety of techniques included is nice but the book is essentially a collection of craft-blog tutorials in print��which means that most active Pinterest users have seen these projects before." - Library Journal
Walter Foster Publishing, 9781600583964, 128pp.
Publication Date: May 1, 2014
About the Author
Founded in 1922 by artist Walter T. Foster, Walter Foster Publishing, an imprint of The Quarto Group, is the world's leading publisher of instructional art books and kits for adults and children. Walter Foster's diverse selection of drawing, painting, doodling and mixed media art books and kits have created a foundation for millions of beginning, intermediate, and advanced artists looking to hone their talents, learn new techniques, and discover different mediums. From color mixing recipes and art tools to the fundamentals of drawing and painting, Walter Foster's books cover a wide variety of topics and mediums across a broad spectrum of traditional and eclectic subject matter for artists of all skill levels. Walter Foster Publishing continues to expand its offerings every year, producing cutting-edge art-instruction books and kits for a worldwide audience.
Gemma Correll is an illustrator originally from the UK, now based in Oakland, California. A graduate of the Norwich School for Art and Design, Gemma's work has a strong narrative basis, and she specializes in hand-drawn comics, characters, illustrations, typography, and pattern. Gemma has exhibited all over the world, and she was the recipient of a Young Guns award from the Art Director's Club of New York in 2010. Gemma is the author and illustrator behind the quirky "Doodling for…" series.
Inspired by worldwide craft culture, Marisa Edghill creates beautiful things from simple materials. With just a few folds and cuts, origami paper effortlessly transforms into airy blooms and pretty tapes into layer cakes. Marisa shares her love of all things crafty on her blog Omiyage Blogs - a blog for creative women looking for DIY and craft inspiration, especially in washi tape / papercrafts. www.omiyageblogs.ca
Khristian A. Howell is a color and pattern expert who fuses her eclectic range of styles into bold designs for product and spaces. She loves to play with ideas of hard and soft, light and dark, feminine and masculine to create depth and interest in her designs. It is the mastery of this push + pull that creates ease and balance in the work. Her work has been featured in ELLE DECOR, Real Simple, and HGTV Magazine. She contributes frequently to Better Homes and Gardens and Fox 32 Chicago. 
Amanda Wright is a self-proclaimed design nerd, and the girl behind the shop Wit & Whistle, which offers witty greeting cards and whistle worthy paper goods--all designed and illustrated by Amanda. She lives with her husband in a quirky A-frame house in Cary, North Carolina. When she's not inventing new goodies for her shop, Amanda tries to make sure life is brimming with creative moments by filling sketchbook pages, dreaming up DIY projects, decorating her home, getting dirt under her fingernails in the garden, and dabbling in photography. www.witandwhistle.com
or
Not Currently Available for Direct Purchase