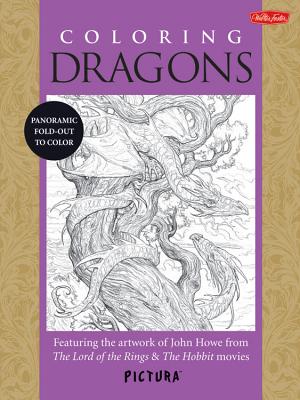 Coloring Dragons: Featuring the Artwork of John Howe from the Lord of the Rings & the Hobbit Movies (Paperback)
Featuring the Artwork of John Howe from the Lord of the Rings & the Hobbit Movies
Walter Foster Publishing, 9781600583988, 16pp.
Publication Date: February 1, 2014
Description
Pictura showcases a stunning range of art to collect and admire and encourages beginning to advanced artists to put their own stamp of creativity on the artwork by coloring it in. Its unique accordion foldout format makes it an attractive decorative piece that can be displayed and shared with others. Some of the world's most famous and respected illustrators set the foundation of the artwork by creating beautiful, original, and imaginative scenes. It is up to the individual to color in these spectacular settings, enhancing the scenes and adding their own personal touch. Coloring Dragons features the unique art of John Howe, famous artist and creator of fantastical worlds and beasts and concept artist on the Lord of the Rings and The Hobbit films. Through John's work, artists are transported to a magical world of dragons. On the flip side of the panel, this world-famous master offers his expertise and advice about basic drawing skills and the tools and materials needed to draw dragons. With so many details packed into an 8-panel display, Coloring Dragons invites artists to discover hidden mythical creatures and legendary beasts as they color their way through this labyrinthine world of charm and fantasy.
About the Author
John Howe studied at the School of Decorative Arts in Strasbourg, France. He is a respected freelance illustrator, and has published a wide range of historical and fantasy work on both sides of the Atlantic.
Advertisement