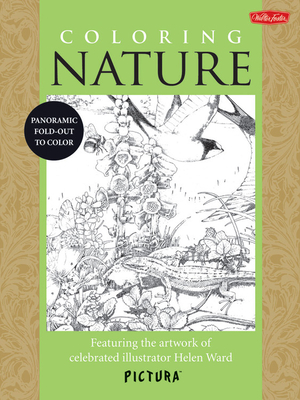 Coloring Nature (Paperback)
Featuring the artwork of celebrated illustrator Helen Ward (PicturaTM)
Walter Foster Publishing, 9781600584015, 16pp.
Publication Date: February 1, 2014
* Individual store prices may vary.
Description
Pictura showcases a stunning range of art to collect and admire and encourages beginning to advanced artists to put their own stamp of creativity on the artwork by coloring it in. Its unique accordion foldout format makes it an attractive decorative piece that can be displayed and shared with others. Some of the world's most famous and respected illustrators set the foundation of the artwork by creating beautiful, original, and imaginative scenes. It is up to the individual to color in these spectacular settings, enhancing the scenes and adding their own personal touch. Coloring Nature features the unique art of talented, renowned artist Helen Ward, whose illustrations are highly detailed and delicate, and who is best known for her beautifully rendered natural-history drawings. Through her detailed artwork, Helen offers the artist a glimpse into life in the English countryside, depicting the passing seasons along the length of the Pictura. On the flip side of the panel, artists can learn more about flora and fauna with the provided species guide. Artists can also try drawing their own swallow and country landscape. With so many details packed into an 8-panel display, Coloring Nature invites artists to engage in their creative abilities and discover a quaint English countryside through all the seasons of the year.
About the Author
Helen Ward studied at the Brighton School of Art under the direction of John Vernon Lord and Raymond Briggs. Since graduating, she has been an illustrator and author of children's books for more than 20 years.