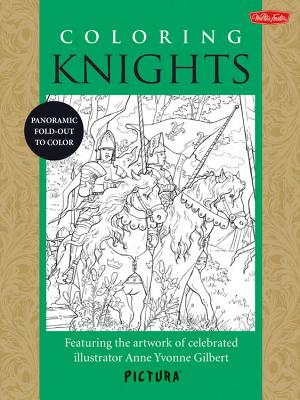 Coloring Knights (Paperback)
Featuring the artwork of celebrated illustrator Anne Yvonne Gilbert (PicturaTM)
Walter Foster Publishing, 9781600584022, 16pp.
Publication Date: February 1, 2014
* Individual store prices may vary.
Description
Pictura showcases a stunning range of art to collect and admire and encourages beginning to advanced artists to put their own stamp of creativity on the artwork by coloring it in. Its unique accordion foldout format makes it an attractive decorative piece that can be displayed and shared with others. Some of the world's most famous and respected illustrators set the foundation of the artwork by creating beautiful, original, and imaginative scenes. It is up to the individual to color in these spectacular settings, enhancing the scenes and adding their own personal touch. Coloring Knights features the unique art of talented and renowned artist Anne Yvonne Gilbert, whose elaborate style features realistic figure work and keen attention to details and textures. Through her intricate artwork, Anne offers the artist a scene of chivalry and romance, filled with decorative textures and patterns. On the flip side of the panel, artists can follow a guide showing the various aspects of being a knight and try their hand at drawing a knight on horseback or down on one knee. With so many details packed into an 8-panel display, Coloring Knights invites artists to engage in their creative abilities and discover a romantic world filled with chivalry.
About the Author
Yvonne is an illustrator and author. She was born in Northumberland, UK, and studied at both Newcastle and Liverpool Colleges of Art. Since becoming a freelance illustrator in 1978, she has worked with many of the major publishing houses and design groups worldwide. Yvonne lives in Toronto, Canada.