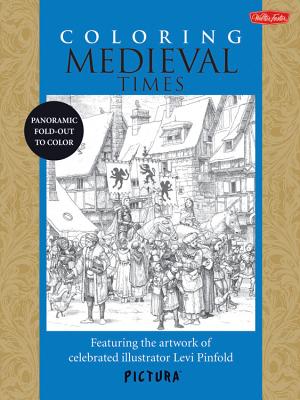 Coloring Medieval Times: Featuring the Artwork of Celebrated Illustrator Levi Pinfold (Paperback)
Featuring the Artwork of Celebrated Illustrator Levi Pinfold
Walter Foster Publishing, 9781600584039, 16pp.
Publication Date: February 1, 2014
Description
Pictura showcases a stunning range of art to collect and admire and encourages beginning to advanced artists to put their own stamp of creativity on the artwork by coloring it in. Its unique accordion foldout format makes it an attractive decorative piece that can be displayed and shared with others. Some of the world's most famous and respected illustrators set the foundation of the artwork by creating beautiful, original, and imaginative scenes. It is up to the individual to color in these spectacular settings, enhancing the scenes and adding their own personal touch. Coloring Medieval Times features the unique art of talented and renowned artist Levi Pinfold, whose mastery of fine lines creates accurate forms dense in detail and full of character. Through his intricate and humorous artwork, Levi depicts the historic Festival of Fools, showing different townsfolk going about their day. On the flip side of the panel, artists can learn about the main cast of characters and try their hand at drawing their own medieval character. With so many details packed into an 8-panel display, Coloring Medieval Times invites artists to engage in their creative abilities and discover a world filled with tomfoolery and humor.
About the Author
Levi is a critically acclaimed author and illustrator of books for both children and adults. He was born in the Forest of Dean, studied at University College Falmouth, and now lives in Brisbane, Australia, with his girlfriend and Howard the lizard. He is currently working on his next children's picture book, Vegetables.
Advertisement