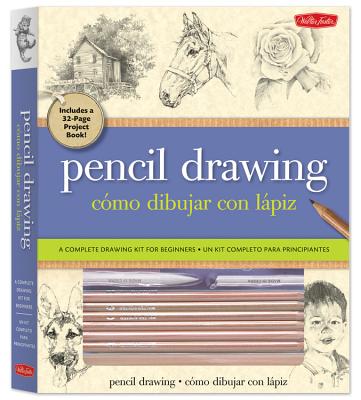 Pencil Drawing Kit: A Complete Kit for Beginners [With Artist's Triangle and 8 Pencils and 2 Erasers and Sharpener and Paper] (Paperback)
A Complete Kit for Beginners [With Artist's Triangle and 8 Pencils and 2 Erasers and Sharpener and Paper]
Walter Foster Publishing, 9781600584053, 32pp.
Publication Date: December 1, 2013
* Individual store prices may vary.
or
Not Currently Available for Direct Purchase
Description
This complete kit makes it easy to start exploring the exciting art form of pencil drawing because it comes with everything a beginning artist needs--from a set of high-quality materials to comprehensive instructions. The project book covers the basics, such as handling the pencil and applying shading, before delving into simple step-by-step lessons that give would-be artists a chance to apply their newfound knowledge. And every lesson can be accomplished with the array of drawing materials provided. The hardcover case includes a 40-page paperback book with corresponding Spanish instruction, 6 drawing pencils (B, F, H, HB, 2B, 2H), a flat sketching pencil, a charcoal pencil, a sharpener, kneaded and rubber erasers, an artist's triangle, 2 tortillons, a sandpaper block, and drawing paper and pad.
Warning This product is intended for use by ages 13 and older and is not intended for use by children.

About the Author
Michael Butkus was trained at Otis Parsons in Los Angeles and the Art Center College of Design in Pasadena, California. He has taught illustration and rendering techniques, along with character design and visual development, to art industry professionals and commercial art students. Michael has worked on more than 2,500 films in the areas of advertising, movie poster art, set design, and character design. Michael also invented and illustrated hundreds of characters for Lucasfilms' Shadow of the Empire. Clients include Paramount, Warner Brothers, Universal, Disney, DreamWorks, and LucasArts, as well as a number of toy companies that employ his imaginative creations and conceptual renderings for product design. Michael lives in Los Angeles, CA.William F. Powell studied at the Art Student's Career School in New York; Harrow Technical College in Harrow, England; and the Louvre Free School of Art in Paris, France. His work has been represented in major galleries and reproduced in the form of illustrations, prints, and limited-edition collector's plates. He has been professionally involved in fine art, commercial art, and illustration for more than 45 years. His experience as an instructor includes oil, watercolor, acrylic, gouache, colored pencil, and pastel with subjects ranging from landscapes and seascapes to still life, portraiture, and wildlife. He holds awards for the technical side of his art, which has been used in major space and environmental programs.Mia Tavonatti is an artist with a variety of interests, including a strong passion for painting and drawing. She moved from Michigan to California to attend art school at California State University, Long Beach, where she earned her BFA and MFA in illustration. She has also studied painting abroad, and she loves to spend her summers painting in Greece. Mia has exhibited her work extensively, both in Europe and throughout the United States. She is the recipient of numerous scholarships and awards, and her work can be seen on more than 45 book covers and in several magazines. In addition to her illustrative work, she has created a number of murals and commissions for restaurants, private residences, and corporations. She teaches illustration and painting and the Art Institute of Southern California in Laguna Beach and currently resides in Costa Mesa, California.
Advertisement