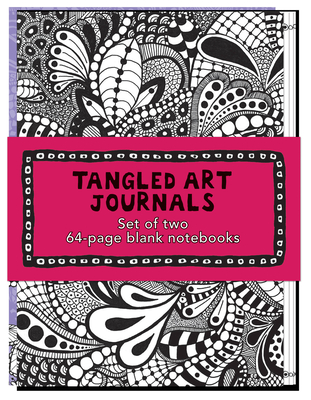 Tangled Art Journals: Set of Two 64-Page Blank Notebooks (Paperback)
Set of Two 64-Page Blank Notebooks
Walter Foster Publishing, 9781600584275, 64pp.
Publication Date: January 2, 2014
* Individual store prices may vary.
or
Not Currently Available for Direct Purchase
Description
Maintain schedules, keep lists, or jot down ideas whenever creativity strikes with the two journals in this convenient stationery set. Bellybanded together and packaged in a clear resealable bag, each 6" x 8.5" journal features a whimsically illustrated cover and 64 blank interior pages for easy on-the-go access.
About the Author
Margaret Bremner was never really interested in being anything but an artist. She loves colors, patterns, visual textures and designs. Margaret has been married to her husband for 33 years. The couple recently returned home to Quebec after spending two years in China teaching English.www.enthusiasticartist.blogspot.com By day Norma J. Burnell is a website designer. At night, She's a "Tangler." Norma enjoys drawing and painting in addition to tangling and has taught art to adults and children.www.fairy-tangles.com Penny Raile is a mixed media and digital artist, as well as a Certified Zentangle Teacher (CZT). She teaches Zentangle workshops regularly. www.TangleTangleTangle.com Lara Wils is a Certified Zentangle Teacher and was a graduate of the first CZT training. In addition to Zentangle, she enjoys creating jewelry and other crafts. She lives with her wonderful partner Ned and their terrifically terrorizing kitten, Hugo.www.laralina-tangleware.blogspot.comNorma J. Burnell, Certified Zentangle(r) Teacher, is an accomplished artist and has been involved in the arts all of her life. Norma has won several People's Choice awards for her Fairy-Tangles(tm) Artist Trading Cards. She is a contributing author to The Art of Zentangle. Find out more at www.fairy-tangles.com.A "maker of stuff," Certified Zentangle(r) Teacher and artist Penny Raile is known for her whimsical projects that range from cardboard cuckoo clocks to WhimBots crafted from thrift-store finds. Penny is a contributing author to The Art of Zentangle and author of Tangled Up! See her work at www.tangletangletangle.com.Margaret Bremner was never really interested in being anything but an artist. She loves colors, patterns, visual textures and designs. Margaret has been married to her husband for 33 years. The couple recently returned home to Quebec after spending two years in China teaching English.www.enthusiasticartist.blogspot.com By day Norma J. Burnell is a website designer. At night, She's a "Tangler." Norma enjoys drawing and painting in addition to tangling and has taught art to adults and children.www.fairy-tangles.com Penny Raile is a mixed media and digital artist, as well as a Certified Zentangle Teacher (CZT). She teaches Zentangle workshops regularly. www.TangleTangleTangle.com Lara Wils is a Certified Zentangle Teacher and was a graduate of the first CZT training. In addition to Zentangle, she enjoys creating jewelry and other crafts. She lives with her wonderful partner Ned and their terrifically terrorizing kitten, Hugo.www.laralina-tangleware.blogspot.com
Advertisement