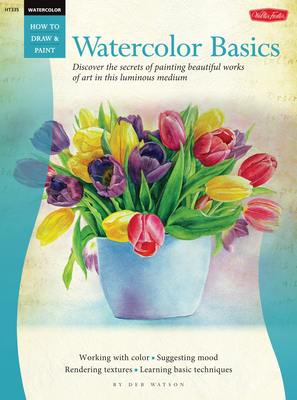 Watercolor (Paperback)
Basics: Discover the secrets of painting beautiful works of art in this luminous medium (How to Draw & Paint)
Walter Foster Publishing, 9781600584336, 32pp.
Publication Date: November 3, 2014
* Individual store prices may vary.
Description
Watercolor: Basics teaches everything the aspiring artist needs to know to get started in watercolor painting. This versatile and fluid medium has an unpredictable nature that can make it appear intimidating to the novice, making Watercolor: Basics the perfect introduction to a breathtaking and lively medium. With a comprehensive introduction to tools and materials, Watercolor: Basics guides the artist in selecting the appropriate paints, surfaces, brushes, and additional materials needed to become a master in watercolor. Additionally, the book covers basic color theory and watercolor painting techniques, including how to create washes, work with masking fluid, mix colors, and render textures. Artists will learn to master the art of watercolor through a series of easy-to-follow step-by-step projects covering a variety of subjects, including landscape, still life, portrait, and more. Along the way, artists will discover tips and suggestions from a professional artist as they learn how to render light and shadow, achieve a range of textures, suggest mood or time of day, and bring dimension and depth to their art. With expert instruction, a breadth of coverage, helpful tips, and colorful art, Watercolor: Basics is the perfect resource for artists wanting to get started in this luminous and expressive medium.
About the Author
Deb Watson is an award-winning, self-taught artist who works in watercolor and oil. Her paintings are a unique combination of precise detail with loose, glowing color. Following a career as a nurse, Deb began painting full-time, and her work has been accepted into national juried exhibitions and featured in several national magazines. She is a signature member of the National Watercolor Society, the Watercolor USA Honor Society, and past president of the Pennsylvania Watercolor Society. Deb maintains an active YouTube channel of watercolor painting tutorials, with more than 6,000 subscribers and a combined total of 385,545 views on her five most popular videos. She is the author of Walter Foster's Watercolor Basics and a contributing author of The Art of Watercolor Painting and The Art of Painting Animals (July 2015). www.debwatsonart.com
or
Not Currently Available for Direct Purchase