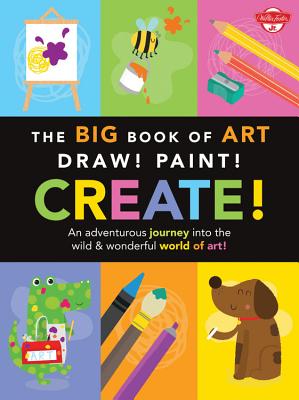 The Big Book of Art (Paperback)
Draw! Paint! Create!: An adventurous journey into the wild & wonderful world of art! (Big Book Series)
Walter Foster Jr, 9781600584343, 128pp.
Publication Date: January 6, 2015
* Individual store prices may vary.
Description
The Big Book of Art: Draw! Paint! Create! provides a comprehensive, colorful, and creative guide for using a range of kid-friendly art tools--from crayons and colored pencils to markers and paint. Within each chapter, young artists are guided through the artistic process with a brief introduction to each respective tool or medium. From there, children will learn helpful techniques for employing the tool or medium via a selection of fun and unique step-by-step art projects. Tons of art tips are sprinkled throughout for a comprehensive learning experience, while an interactive format, including perforated practice pages that can be easily removed and displayed in any home or classroom, engages children for hours of creative fun. Parents will appreciate this book for its rainy-day activity appeal. Art teachers and homeschool parents will appreciate it as an educational resource; while art and craft enthusiasts will love it as an inspiring gift for the artists in their lives. Whether an easy monoprint made with washable markers or a watercolor fish painted using the wet-on-wet technique, children everywhere will be delighted with the fun and creativity this book has to offer them.
About the Author
Lisa Martin is a designer and illustrator originally from Newcastle upon Tyne, United Kingdom. She specializes in children's design, as well as character, stationery, and greeting cards design. She loves color, her family, and her little cat.
Damien Barlow is a paper-cut illustrator from Newscastle, based in Leeds, United Kingdom. He is an illustrator on the UK Greetings character team and works mainly within the children's market and in paper cutting and paper mechanics.
A lifelong lover of the arts, Elizabeth T. Gilbert earned a BA in English from the University of San Diego in 2003, where she also studied art and anthropology. Elizabeth spent the next eight years as an editor, writer, and in-house artist for Walter Foster Publishing. In 2009, she co-authored The Daily Book of Art: 365 readings that teach, inspire & entertain. Currently she is a freelance writer, editor, and artist working in Colorado, where she lives with her husband, their young son, and a mischievous cat.
Jennifer McCully is a graphic designer who expanded her horizon to include mixed-media work. Her creative spirit can be seen on her bold canvases, which feature vibrant and simple objects that are both energetic and inspiring. Her childlike creations evoke happiness and draw inspiration from practically anything. Jennifer is a full-time Etsy seller, operating four different shops, and the author of ARTrageous! and The Grown-Up's Guide to Paint Pouring with Kids, both from Walter Foster Publishing. Visit her online at www.jennifermccully.com