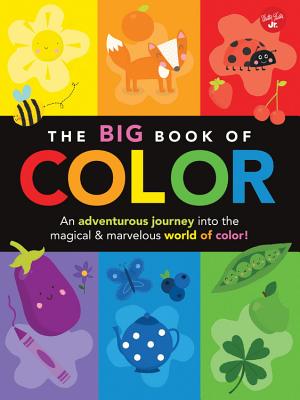 The Big Book of Color (Paperback)
An adventurous journey into the magical & marvelous world of color! (Big Book Series)
Walter Foster Jr, 9781600584350, 128pp.
Publication Date: January 6, 2015
* Individual store prices may vary.
Description
The Big Book of Color introduces children to the art and science of color through a fun and engaging, easy-to-understand approach. With The Big Book of Color, young artists will be treated to an in-depth exploration of the wonderful world of color through simple step-by-step projects and unique educational content.

Commencing with an introduction to color basics, children will learn about the color wheel, complementary colors, warm and cool colors, color mood, and much more. Young artists will also learn how to combine two colors to create new colors.

Additionally, they will discover how to use a monochromatic color scheme; pair complementary colors for impact; and all about the various tints, tones, and shades of their favorite colors. TheBig Book of Color also invites children to dive into the main color groups and explore the various shades of red, green, blue, yellow, purple, and pink through a range of artwork and a series of colorful, fun step-by-step projects.

Myriad creative exercises and projects throughout the book make learning color concepts fun and applicable, while perforated pages make it easy to display new masterpieces. With a plethora of fun projects, easy-to-understand concepts, and pages bursting with color, The Big Book of Color is sure to be a hit for young readers and budding artists everywhere.
About the Author
Lisa Martin is a designer and illustrator originally from Newcastle upon Tyne, United Kingdom. She specializes in children's design, as well as character, stationery, and greeting cards design. She loves color, her family, and her little cat.
Damien Barlow is a paper-cut illustrator from Newscastle, based in Leeds, United Kingdom. He is an illustrator on the UK Greetings character team and works mainly within the children's market and in paper cutting and paper mechanics.