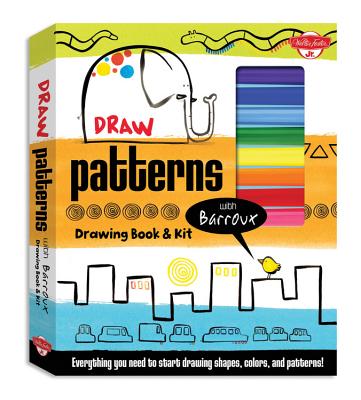 Draw Patterns with Barroux Drawing Book & Kit: Everything You Need to Start Drawing Shapes, Colors, and Patterns! (Hardcover)
Everything You Need to Start Drawing Shapes, Colors, and Patterns!
Walter Foster Jr, 9781600584701, 64pp.
Publication Date: November 3, 2014
Description
Children of all agesa and their parentsa will spend hours of fun filling in simple, colorful patterns throughout this drawing and activity book by noted children's illustrator, Barroux. His colorful designs and illustrations inspire children's imaginations to think about colors, textures, and patterns as they decorate cupcakes, draw spots and stripes on animals, and fill highways with cars and people. The Draw Patterns with Barroux activity book and kit acts as an interactive teaching tool that stimulates creativity and observation. Working together, with a pencil and an assortment of markers at hand to add colorful patterns and designs, parents and children can have fun learning about shapes, colors, and patterns, as they doodle and draw their way through Barroux's creative and colorful world. This colorful activity book and kit includes the Draw Patterns with Barroux activity book, a drawing pencil with eraser, and an assortment of colorful markers to help inspire children's creative freedom.
About the Author
Barroux studied photography, art, sculpture, and architecture in France at the famous Ecole Estienne and Ecole Boule. He went on to work as an art director in Paris and Montreal. While in Montreal, Barroux began illustrating by creating linocut images, and he is now well known for his children's book illustrations. His work has appeared in The New York Times, Washington Post, and Forbes. He currently lives in Paris with his family.
Advertisement