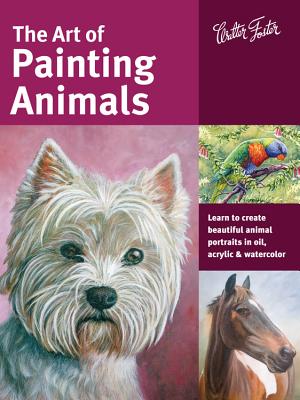 The Art of Painting Animals (Paperback)
Learn to create beautiful animal portraits in oil, acrylic, and watercolor (Collector's Series)
Walter Foster Publishing, 9781600584763, 144pp.
Publication Date: July 15, 2015
* Individual store prices may vary.
Description
In The Art of Painting Animals, aspiring painters will learn how to work with oil, acrylic, and watercolor paints to bring their favorite animals to life on paper or canvas. Each medium has its section that begins with an introduction, which includes a section of helpful information on basic tools and materials including paints, brushes, appropriate supports, and additional material followed by a quick guide to techniques and artist tips for rendering animal features and fur, as well as natural textures such as bark and foliage. Talented artists guide readers through a series of easy-to-follow step-by-step projects covering a variety of subjects from pets and horses to wildlife and birds. Projects include a moose, a Shih Tzu dog, a fox, a deer, a lynx, and many more! Along the way, aspiring artists will find helpful tips and tricks for establishing a compelling composition, achieving accurate proportions, and developing expressive animal faces and emotions. With its breadth of content and instruction, The Art of Painting Animals is perfect for any animal-loving artist's collection.
About the Author
Maury Aaseng has always been excited about drawing and art, starting with his grade school days, drawing dinosaurs and other animals in notebook margins. After graduating with a BFA in graphic design from the University of Minnesota—Duluth, Maury moved to San Diego to begin an illustration career. His work has spanned a variety of subject matter and illustration styles, including medical illustration, natural sciences, patient education, and watercolor. His artwork was featured in the Upstream People Gallery 7th Annual Color: Bold/Subtle Juried Online International Art Exhibition and at the Great Lakes Aquarium Gallery where he displayed his watercolor art in a show called Saturated Life. An avid nature enthusiast, Maury now lives in Duluth, Minnesota, with his wife and two children. Drawing inspiration from the northern forests and lakes that border Canada with his family is his greatest joy.
Lorraine Gray is a pet portrait artist, working in pastels, oil, and acrylic, in Berkshire, England. Lorraine's love for art and animals started as a young girl, when she spent many hours painting her beloved pet dog and cat. Her pet portraits hang in the USA, Japan, Canada, Switzerland, Malta, France, Holland, and Dubai, as well as the UK. Visit www.pastelpetportraits.co.uk
Jason Morgan is a professional wildlife artist who specializes in big cats and African animals. Jason is heavily involved in conservation through the Cheetah Conservation Fund, the Snow Leopard Conservancy, and the Dian Fossey Gorilla Fund and has been featured in Artists & Illustrators. A signature member of Artists for Conservation, Jason strives to paint wildlife as accurately as he can by studying animals in their natural environment. Visit www.onlineartdemos.co.uk to learn more about Jason.
Deb Watson is an award-winning, self-taught artist who works in watercolor and oil. Her paintings are a unique combination of precise detail with loose, glowing color. Following a career as a nurse, Deb began painting full-time, and her work has been accepted into national juried exhibitions and featured in several national magazines. She is a signature member of the National Watercolor Society, the Watercolor USA Honor Society, and past president of the Pennsylvania Watercolor Society. Deb maintains an active YouTube channel of watercolor painting tutorials, with more than 6,000 subscribers and a combined total of 385,545 views on her five most popular videos. She is the author of Walter Foster's Watercolor Basics and a contributing author of The Art of Watercolor Painting and The Art of Painting Animals (July 2015). www.debwatsonart.com
Toni Watts is a former doctor who gave up medicine to follow her dream of being an artist. Her award-winning work is now held in private collections worldwide, and she splits her time between painting, teaching, and watching the wildlife she loves. Visit www.toniwatts.com to learn more.
Kate Tugwell is a professional portrait artist and art tutor based in Sussex, UK. She is a qualified graphic designer, but in 2002 she began to develop her love of painting full-time. She now divides her time between private commission work and teaching drawing and painting courses and workshops for adults and children. For her commission work, Kate's aim is to capture the personality or essence of the person or animal. She paints with acrylics, pastels, and other mediums and works from life and from photographs. Her artwork is found in private collections worldwide.