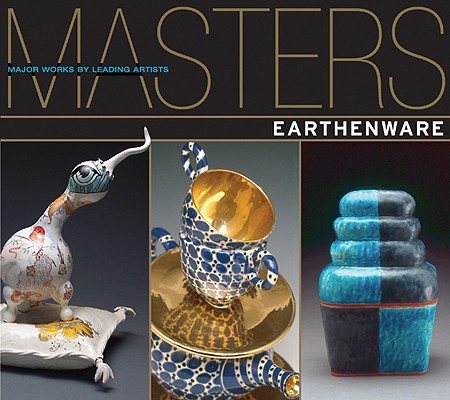 Earthenware (Paperback)
Major Works by Leading Artists
Lark Books (NC), 9781600592935, 318pp.
Publication Date: January 1, 2010
* Individual store prices may vary.
Description
The newest entry in the popular Masters series presents 38 of the world's most notable potters and sculptorsand dozens of vibrant, functional, sculptural, and figurative pieces of earthenware to explore.
Masters: Earthenware reveals the tremendous imagination, innovation, and technical facility that today's artists bring to the oldest ceramic medium. Curated by Matthias Ostermann, a celebrated ceramist in his own right, this stunning volume gives each featured artist a mini-retrospective of approximately eight pages that showcase 1214 of his or her best works. Illuminating comments from the creators accompany the images, outlining their development and artistic philosophy. 
Includes:
Marino Moretti - Alexandra - Copeland - Terry Siebert - Connie Kiener - Linda Arbuckle - Diego Romero - Christine Thacker - Stephen Bowers - Richard Slee - Richard Milette - Lisa Naples - Woody Hughes - Wynne Wilbur - Gail Kendall - Herman Muys - Paul Day - Patti Warashina - Greg Payce - Cindy Kolodziejski - and more!
About the Author
Curator MATTHIAS OSTERMANN was a ceramist from 1974 until his death in 2009. He specialized in low-fire tin-glaze techniques for functional domestic wares, sculptures, and architectural wall tiles. He lectured, taught, and exhibited worldwide. He was an elected member of the International Academy of Ceramics in Geneva, Switzerland.
Praise For Earthenware: Major Works by Leading Artists…
"Flipping through the pages of Masters: Earthenware feels similar to exploring a fine art gallery. The book highlights the achievements of 38 international ceramic artists through galleries of work handpicked by the late ceramist Matthias Ostermann. Although the art is simply amazing, what makes this book special is the chance to step into each artist's mind: don't miss the quotes interspersed throughout the images to touch on the artists' inspirations." AmericanStyle "The late Matthias Ostermann, well known for his own work in earthenware, selected 38 international artists working in the low-fire range for inclusion in this book. The presentation of each artist's work includes eight pages of images and a brief text by Glen R. Brown describing the influences, concepts, and techniques he or she employs. Collectively, the selected artists create vessels, functional work, and various types of sculpture. The surfaces range from unglazed to monochromatic glazing and to highly decorated patterns [and] narrative, illusionistic, and even photorealistic imagery. The book showcases the versatility of working in the earthenware rangewith some artists interested in the range of colors and surfaces available, while others are interested in the connections to specific historical or regional styles and glazes, and many are interested in the material's associations with the pottery that has been made and used by everyday people for centuries." Ceramics Monthly
or
Not Currently Available for Direct Purchase